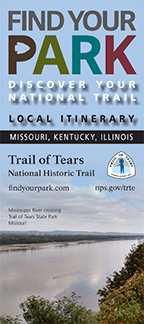 DAY 1: JACKSON, MO. TO PADUCAH, KY.
1. Bollinger Mill State Historic Site
This mill was used by detachments to acquire supplies along their journey. Visitors can learn about historic mill operations and the types of supplies available to travelers.
Contact info
Phone: (573) 243-4591
Address: 113 Bollinger Mill Road;Burfordville, MO 63739-9051
2. Jackson Courthouse
Three Cherokee detachments passed through Jackson, MO on their way to Oklahoma. In 1838, Jackson already had a courthouse.
Contact info
Phone: (573) 204-0618
Address: 101 Court Street;Jackson, MO 63755
3. Greensferry Road
Drive along this road, which follows the original Trail of Tears route.
Contact info
Address: Greensferry Rd;Jackson, MO 63755
4. Trail of Tears State Park
Visitors can Discover the history of the trail at Trail of Tears State Park visitor center, and walk along the same landscape Cherokees witnessed on their trek west.
Contact info
Phone: (573) 290-5268
Address: 429 Moccasin Springs;Jackson, MO 63755-8295
5. Bushyhead Memorial
The Bushyhead memorial located in Trail of Tears State Park commemorates a woman who died on the trail. Nancy Bushyhead Walker Hildebrand was related to two of the detachment leaders.
Contact info
Phone: (573) 290-5268
Address: 429 Moccasin Springs;Jackson, MO 63755-8295
6. Belmont
Belmont was on the other side of the Mississippi River from the Columbus-Belmont crossing in Kentucky. This site is popularly known for it's Civil W
ar history, but the crossing existed before the war and was a part of Trail of Tears history. At this site visitors can see a wayside about geography of the trail.
7. Dorena-Hickman Ferry
This historic riverboat ferry offers a unique experience for visitors. Ferries were used to take detachments across the Mississippi river.
Contact info
Phone: (731) 693-0210
Address: Dorena-Hickman Ferry, State Highway A;East Prairie, MO 63845
8. Columbus-Belmont State Park
C
olumbus-Belmont State Park in Kentucky was a river landing used in the Benge Detachment to transport the group across the Mississippi river by ferry.
Address: 350 Park Road;Columbus, KY 42032
Paducah is a beautiful town, with Trail of Tears History. Here, Trail of Tears detachments would stop to collect supplies. This is a good place to stay overnight, to continue to Day 2 on the itinerary. The Paducah Waterfront witnessed the passage of at least four Trail of Tears detachments. The nearby River Discovery Center at 117 South Water Street (between Broadway Street and Kentucky Avenue) has a Trail of Tears exhibit.
Address: foot of Broadway Street, Paducah (waterfront)
DAY 2 PADUCAH, KY. TO CAPE GIRARDEAU, MO.
In this place, over 1,000 Cherokee from the Peter Hildebrand Detachment spent around two weeks waiting for the Ohio River to thaw and become passable.
Address: Mantle Rock Rd;Smithland, KY 42081
This is a crossing used by thousands of Cherokee to cross the Ohio River. While others crossed or the bitterly cold weather did not permit, they waited at Mantle Rock.
Address: Upper River Rd, Livingston, KY 42081 (end of road)
3. Cave-in-rock Ferry This ferry follows the official auto-tour route for the Trail of Tears.
Address: Canal St, Marion, KY 42064
Golconda, IL was the town Cherokees traveled through after crossing at Berry's Ferry.
Phone: (618) 683-3341 (city clerk)
5. Original Route (signed)
You are driving along the original Trail of Tears route, as marked by signs along the way.
McCorkle Creek, at the East side of Vienna, Illinois, was a camping site in 1838 for those traveling on the Trail. The land owner, Mr. Joseph McCorkle, gave the Cherokee permission to camp there. Additionally, he operated a grist mill on the creek, where the Cherokee traded for food. It was at this location on December 26, 1838, that the detachment that Reverend Butrick was travelling with that they learned of the ice on the Mississippi River and the delay in prior detachments in crossing the river.
7. Camp Ground Church In the early 1800s, this location was a well-known camping spot due to the nearby springs. During removal, thousands of Cherokee camped here on their trek west. It is believed that some died and are buried at this site.
Phone: (618) 833-9000 Address: 50 Tunnel Ln;Anna, IL 62906
8. Mississippi River Bridge
Take the bridge across the Mississippi River to end at Cape Girardeau. This was the historic crossing where many Cherokee were finally able to cross the mississippi.
Address: County rd. 146 (Shawnee Pkwy), MO
Thousand of Cherokee from several detachments passed through Cape Girardeau on their way west. This is the end of your two-day itinerary. Feel free to explore the city and its rich history.