Find Your Park! Itinerary for Georgia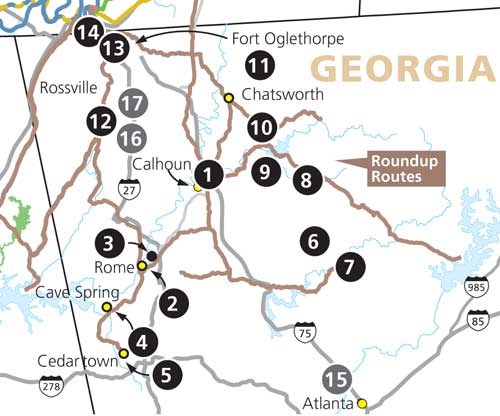 The Cherokee homelands include Georgia. Most of the sites relate to the round up routes along which the Cherokee were forcibly removed to camps. Most Cherokee are moved into 11 removal camps—10 in Tennessee and one in Alabama. The round ups were the start of an 800-mile journey. Other sites in Georgia showcase elements of Cherokee life or environment in the homelands.

Please note: Not all sites have phone numbers or websites. Some sites are private.
This itinerary connects to the Find Your Park! Georgia, Tennessee, Alabama rack card. The grey circles are in addition to the sites shown on the rack card.

View the rack card
Helpful websites:
---
1. New Echota State Park, 1211 Chatsworth Highway NE (State Highway 225), Calhoun, Gordon County, (706) 624-1321.

In 1825, the Cherokee national legislature established a capital here. Visitors can tour several original and reconstructed buildings, including the council house, court house, print shop, missionary Samuel Worcester's home, and an 1805 store, along with smoke houses, corn cribs, and barns. In the site's visitor center, guests can view interpretive exhibits and a 17-minute film.
https://gastateparks.org/NewEchota

2. Chieftains Museum, Major Ridge Home, 501 Riverside Parkway NE, Rome, Floyd County, (706) 291-9494.

The Chieftains Museum tells the story of the influential Ridge family, including Major Ridge, his prominent son John Ridge, and the Trail of Tears, as well as subsequent history of the home and region. Major Ridge was one of the Treaty Party leaders who signed the 1835 Treaty of New Echota that resulted in Cherokee removal. The park-like venue has a museum and the site of the Ridge family ferry on the river.
http://chieftainsmuseum.org/

3. Running Waters, John Ridge Home, 3853 Calhoun Road NE, Rome, Floyd County. Private residence, closed to the public.

At the time of the Cherokee removal in 1838, John Ridge was one of the most influential leaders in the Cherokee Nation. The Treaty Party formed at Running Waters, where they conducted their business and discussed in open council the terms of the Treaty of New Echota.
https://www.nps.gov/trte/learn/historyculture/georgia-research.htm

4. Cave Spring/Vann Cherokee Cabin, 24 Broad Street, Cave Spring, Floyd County.

Possibly built by Avery Vann, the namesake of Vann's Valley, this cabin was most likely a part of the Cherokee settlement of Beaver Dam or Beaver Pond. Archaeologists dated the building back to the era of the Red Stick rebellion of 1813. In the 1900s, the cabin served as the Green Hotel in Cave Spring. It is currently undergoing stabilization and restoration to its original early 19th-century appearance. Exhibits are located across the street.
http://cavespringga.blogspot.com/

5. Cedartown Encampment/Removal Site, Biggers Drive and North Furnace Street, Cedartown, Polk County, (770) 748-3220.

Fourteen forts and camps in Georgia held groups of Cherokee before sending them to larger camps in southeastern Tennessee. The camp, an ad hoc military installation, operated during the late spring and early summer of 1838. Two outdoor exhibits interpret the removal camp.
https://www.nps.gov/trte/learn/news/unveiling_cedartown_cavespring.htm
http://www.exploregeorgia.org/listing/48063-the-trail-of-tears

6. Funk Heritage Center of Reinhardt University, 7300 Reinhardt Circle, Waleska, Cherokee County, Georgia. 770-720-5970
Georgia's Official Frontier and Southeastern Indian Interpretive Center is located on the Reinhardt University campus. It has dioramas and a film explaining 12,000 years of American Indian life in Georgia. Also, see exhibits that include historic artifacts and a large petroglyph found in the Hickory Log District of the old Cherokee Nation. An art gallery displays paintings, sculpture, and pottery featuring work by Native American artists. Opening in the fall of 2018, Crisis in Cherokee County: 1800-1838, will tell the story of the transformation and trials of the Cherokee Nation before relocation to Oklahoma and the "Trail of Tears."
https://www.reinhardt.edu/funkheritage/

7. Fort Buffington,*military post, located at Buffington Elementary School, on Georgia Highway 20, Canton, Cherokee County.
https://georgiahistory.com/ghmi_marker_updated/fort-buffington/

*Georgia Military Post Site Information:
Although none of the original fort structures remain intact today, you can visit the sites. Historical markers provide a brief overview of the fort's history in connection with the Trail of Tears. For more information: https://www.gatrailoftears.com/historic-resources

8. Fort Newnan, *military post, located at the intersection of 136 and Antioch Church Road, Blaine Pickens County.
http://www.aboutnorthgeorgia.com/ang/Cherokee_Removal_Forts

9. Rockdale Plantation (George Adair Home), 1981 Highway 411, Ranger, Gordon County.
This private residence is open by appointment only. This 47-acre property includes an 18-room structure (known as the Freeman-Hurt-Evans House) dating from 1785, a "Travelers Rest" house dating from the 1830s, and two other historic buildings. The earliest known owner of the property was George W. Adair, a Cherokee settler who owned five slaves.
http://trailofthetrail.blogspot.com/2011/02/rockdale-plantation-on-national.html

10. Fort Gilmer,* military post, Old US Highway 411 four miles north of Carter's Lake, Murray County.

The site is mentioned on the marker as located on Old 411 about a mile from the Hwy 282 turnoff towards Ellijay.
http://www.aboutnorthgeorgia.com/ang/Cherokee_Removal_Forts

11. Chief Vann House, 82 Highway 225, Chatsworth, Murray County, (706) 695-2598.

James Vann, a member of the Cherokee elite, built this two-story brick mansion built in 1804. A 3,000-square foot interpretive center includes exhibits about the Vann family, Cherokee Nation, and Trail of Tears. Visitors receive guided tours of the historic house. The 23-acre park also includes outbuildings related to plantation operations.
http://gastateparks.org/ChiefVannHouse

12. Carter's Quarters, Rock Springs, Old US 411, 9 miles south of Chatsworth, (706) 278-0217.

Listed on the National Register of Historic Places in Georgia, the home is a private residence located across from the historic marker for Fort Gilmer.
http://www.murraycountymuseum.com/cq.html
http://www.loc.gov/pictures/search/?q=Photograph:%20ga0285&fi=number&op=PHRASE&va=exact&co%20=hh&st=gallery&sg%20=%20true

13. Chickamauga and Chattanooga National Military Park, 3370 LaFayette Road, Fort Oglethorpe, (706) 866-9241.

In 1838, during the Trail of Tears, hundreds of Cherokee traveled north along Crawfish Road in Georgia (LaFayette Road, part of today's Chickamauga Battlefield) to one of the deportation camps at Ross's Landing (downtown Chattanooga, Tennessee). After leaving the camp, many Cherokee crossed Moccasin Bend in Tennessee. A Trail of Tears entrance sign stands at Moccasin Bend National Archaeological District and outdoor exhibits along the Federal Road Trail recount the Cherokee ordeal.
https://www.nps.gov/chch/learn/historyculture/moccasin-bend-national-archeological-district.htm

14. John Ross House, 200 East Lake Avenue, Rossville, Walker County.

Built in 1816, this home sits adjacent to Poplar Spring along a historic Cherokee trading route. Ross sold the house in 1827 and moved to Head of Coosa (now Rome), where he owned a ferry. Beginning in 1828, he served as the principal chief of the Cherokee. He fought against Indian removal, but was forced to move west in 1838.
https://en.wikipedia.org/wiki/John_Ross_House_(Rossville,_Georgia)

15. Cherokee Garden at Green Meadows, 3780 Dallas Highway, near Hamilton Road, Powder Springs, Cobb County.

Features traditional plants used by the Cherokee planted by the Georgia Native Plant Society and Cobb Master Gardeners. Hiking trails are also available.
http://www.greenmeadowspreserve.org/
https://gnps.org/indexes/Restoration_Cherokee_Garden_Index.php
https://www.cobbmastergardeners.com/project/period-cherokee-garden-at-green-meadows-preserve/

16. Chattooga, Dirt, and Island Towns, Park Avenue near Allgood Street, Trion, Chattooga County.

US Highway 27, the original Trail of Tears route, runs through the town and on through the town of Summerville. Look for historical markers and exhibits.

Visit the historic Georgia towns of Chattooga, Dirt Town, and Island Town along today's US Highway 27 to understand Cherokee life in the 1830s. By 1819 the Cherokee lived on less than ten percent of their original homelands and were struggling to maintain community as a unit while relocating repeatedly. The Cherokee left these towns in 1838 during forced removal. Several structures remain.
https://www.nps.gov/trte/learn/historyculture/georgia-historic-town-sites.htm
https://www.chattoogahistory.org/communities/dirt-town-valley/

17. Original Route Signs, Highway 27 was an original (1838) removal route. Many sites in the tour are located along this historic route. Look for the signs to know you are on the Trail of Tears.
https://www.nps.gov/trte/planyourvisit/georgia.htm


Return to Trip Itineraries.
Last updated: January 27, 2020