Historic Site Name Sign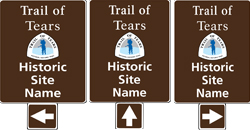 This road sign with arrow(s) is used to direct the public to historic trail sites or segments. Only three lines of text are allowed for the name of any given site or trail segment. To accommodate the range of names that may be placed on this sign, it is slightly larger than the rest of the family of roadway signs. While all of the other signs are 32" x 48," this sign is 36" x 48." Hopefully this will accommodate most every name that might be used; longer names will be considered on a case-by-case basis.
Use of this sign should only be considered where the trail site or segment landowner agrees to sign their property and where a minimum level of public facilities exists. The public must be able to safely park. There needs to be some level of information or interpretation to help the public understand how the site or segment is associated with the trail. For example, an empty field associated to the trail but without any trail interpretation is just an empty field.
Last updated: April 7, 2016