The National Historic Trail Logo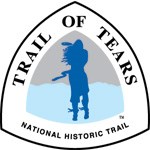 The official logo for the Trail of Tears National Historic Trail was developed from a design by Cherokee artist Gary Allen of Tahlequah, Oklahoma. As the official trail logo, it is used on signs for the trail's auto tour route, to mark trail sites and segments, on official trail publications and other materials, and for other official trail uses. The logo represents the trail and all trail partners working toward the goals and objectives of the Comprehensive Management and Use Plan for the trail.
The National Park Service encourages the appropriate use of the logo by trail partners. However, the trail logo is considered to be a protected federal mark under the law and cannot be used without the permission of the Superintendent of the National Trails Intermountain Region.
For permission to use the logo, please contact:
Superintendent
National Trails Intermountain Region
P.O. Box 728
Santa Fe, New Mexico 87504-0728
Phone: 505-988-6098
Fax: 505-986-5214
Email Us


Last updated: September 10, 2018