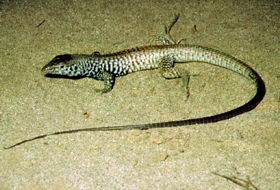 Western Whiptail

Cnemidophorus tigris

Body length: 2 3/8 - 4 1/2"
Diet: Insects, spiders, scorpions, and lizards
Learning to distinguish the many small lizards in the Sonoran Desert requires some patience, but observing their activities is a good place to start. Whiptails are characterized by their restlessness. Unlike "sit and wait" lizards such as tree lizards, which often perch on rocks, whiptails forage continuously on the ground surface. You will see them on hot spring days, constantly poking and digging the soil as they move.
In appearance, whiptails can be distinguished from other desert lizards by long tails and lengthwise stripes. Although it takes training to identify different species of whiptails, the western whiptail's stripes fade with maturity, and the adult skin patterns are marbled or even uniformly brownish-tan. Western whiptails tend to prefer desert to grassland areas.