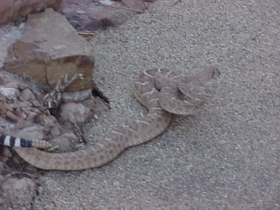 Western Diamondback Rattlesnake

Crotalus atrox

Body length: 30 - 84"
Diet: Rodents, rabbits, birds, and lizards
Diamondbacks are one of the most common snakes in Arizona, and are frequently seen throughout Tonto National Monument. Look for the distinct, equal-sized black and white bands on the tail. Though most active in spring and summer, diamondbacks may be encountered in any month of the year. Rattlesnakes are feared by most people who are not familiar with them, and respected by those who are. If you see (or hear) one, the appropriate action is to back off and leave it alone. Rattlesnake venom is highly toxic, and a bite can have serious consequences.
Rattlesnake bites are sometimes, but rarely, fatal: between 1929 and 1984, the average number of deaths from snakebite in Arizona was 0.68 per year. If you are bitten, the best first aid is to drive to a doctor or hospital for treatment as quickly as possible. Cutting at the bite and use of a tourniquet are no longer recommended.