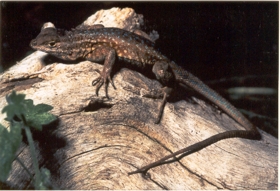 Side-blotched Lizard

Uta stansburiana


Body length: 1 1/2 - 2 3/8"
Diet: Insects, scorpions, spiders, and other arthropods
Side-blotched lizards were the most common lizards observed during a recent study of the herpetofauna (amphibians and reptiles) of Tonto National Monument. These small lizards are found in all areas and habitats of the Monument, including in flat areas north of Route 188, in the cliff dwellings, and in shrubby areas of Cave Creek Canyon. Look for the "side blotch", a small dark dot just behind the forelegs.
Like most small desert reptiles, side-blotched lizards are short-lived. Though they may reach three years of age, in one population studied in Texas less than 1% lived more than 60 weeks. Side-blotched lizards are probably an important food source for many snakes, as well as birds such as roadrunners.