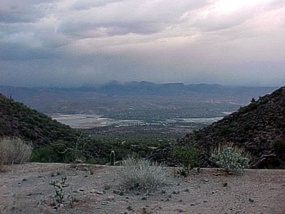 The very nature of Tonto National Monument and its resources creates spectacular and ever-changing vistas. Elevation in the park ranges from 2,300 to 4,000 feet and produces steep terrain from the mountaintops to the canyon bottoms. The many-armed saguaros of the Sonoran Desert stand sentinel on the hillsides, rising above their neighboring plants and bushes, an integral part of the skyline. During years of prolific wildflowers, blooms color the hillsides.
Across the lake from the monument, the mountains are even higher in elevation. When storm clouds move in, they sometimes hide the mountains from view before moving on. Occasionally, winter storms leave snow on the peaks, a contrast to the desert and lake below. Monsoon rainstorms light up the sky with lightning, from time to time reaching down to the mountaintops.
Below the monument, the water of Roosevelt Lake reflects the weather in its surface – white-capped and gray during storms, glassy and blue during clear days, colorful during an outstanding Arizona sunset. The old river channel is sometimes seen at the far end of the lake as the levels of the lake change with spring run-off, summer draw-down, or drought.
Vegetation covers the hillsides. In a good spring, wildflowers provide a picturesque foreground to the cliff dwelling above. Once arriving at the cliff dwellings, the views of the surrounding area are tremendous. A scenic panorama of mountains, hills, valley, lake, and vegetation is displayed for all to see.