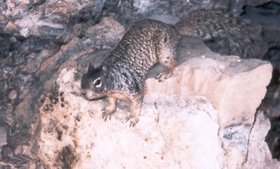 Rock Squirrel

Spermophilus variegatus

Body length: 10 - 11"
Diet: Seeds, vegetation, insects, and vertebrate animals
Often seen along the trails leading to the Upper and Lower Cliff Dwellings, rock squirrels look like the gray squirrels seen in the northern and eastern US. True to their name, they may be seen sitting on rocks or the dwelling walls. When alarmed, they give a high-pitched whistle.
Rock squirrels like to dig, and may be the primary source of damage to the ancient walls and floors of the Upper Cliff Dwelling. In some cases, squirrel activity has destroyed archeological artifacts beneath the surface. However, rock squirrels have undoubtedly inhabited the ruins for a long time, for their bones are found in some of the earliest Salado deposits.
Rock squirrels are omnivorous, eating foods as diverse as mesquite beans, green shoots, insects, and carrion.