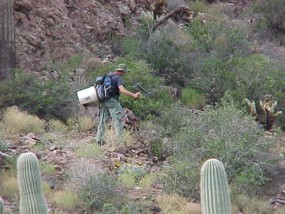 Click on the links for information about completed and ongoing Natural Resource projects.

Exotic Plant Survey - 2005

Initial Surveys to Locate Arizona Black Rattlesnakes (Crotalus oreganus cerberus) In Arizona National Parks and Monuments
This 2005 study, which surveyed for this species at Tonto National Monument, Saguaro National Park, and Walnut Canyon National Monument, had the following objectives: 1) document the presence of Arizona Black rattlesnakes in the parks and estimate relative abundance; 2) locate winter hibernation sites and collect habitat data to be used in the future for predicting other suitable den sites; 3) permanently mark individuals and obtain measurement data to begin studies of demography and longevity; and 4) collect supplemental data on social and defensive behavior, mating period, etc. as animals are observed.

Why Did The Gila Monster Cross The Road? Basic Research at Tonto National Monument 2004 Annual Report and 2005 Initial Progress Report In 2004, we completed the first year of a two-year mark-recapture and telemetry study of gila monsters at Tonto National Monument. Our study has the following objectives: 1) Initiate long-term mark-recapture studies with permanent identification of individual gila monsters using PIT-tagging; 2) continue photographing the dorsal patterns of animals and compare these and previous photos to PIT-tagged individuals to assess the efficacy of the photographic identification method; 3) surgically implant radio-transmitters in up to five adult gila monsters to assess movement patterns and habitats used (especially to provide an answer to the question of why gila monsters cross the road by the pumphouse), and basic ecological information; and 4) provide interpretive research sessions for visitors.

Reassess Animal Damages to Cliff Dwellings at Tonto National Monument, Arizona This 2005 study attempted to determine what species of mammals are commonly present in the Upper Ruin at Tonto National Monument, how their population varies seasonally, what kind of damage occurs (if any) from these animals, and what effect a removal program may have on future populations of rodents utilizing the site. It also compared the results to earlier rodent studies done at the Upper and Lower Ruin.

A Biological Inventory and Hydrological Assessment of the Cave Springs Riparian Area, Tonto National Monument, Arizona This 2005 report gives geohydrology details on the Cave Canyon watershed and the springs in Cave Canyon that give rise to a riparian woodland at Tonto National Monument, located in east-central Arizona. It also summarizes the results of the first biological inventory of plants and vertebrates. The inventory focused on the riparian area in Cave Canyon and included some surveys in other areas as well.

Bat use of Montezuma Castle National Monument, Tonto National Monument, and Tuzigoot National Monument, Arizona In 2004, a study was conducted to determine bat use at Montezuma Castle (i.e., Montezuma Castle unit and Montezuma Well unit), Tonto, and Tuzigoot National Monuments, Arizona, and to determine if bats were causing any damage to archeological resources in the three areas.

Inventory and Assessment of Avifauna and a Monitoring Protocol Proposal for Tonto National Monument, Arizona To assess the bird life and develop a monitoring protocol for Tonto National Monument, general surveys or censuses were conducted from September 1992 to July 1995. Historical records were augmented with data collected during the study period to inventory all bird species. A field checklist of birds in the monument was updated in 1995-1996 as part of this project.

An Inventory of the terrestrial vertebrates at Tonto National Monument, Arizona Using live-trapping, infrared-triggered photography, and direct observation, we confirmed the presence of 6 species of amphibians, 32 species of reptiles, and 26 species of terrestrial mammals between March 1993 and June 1995. Included in this total were 2 amphibians, 5 reptiles, and 3 mammals not previously reported for the Monument. We also summarized historic records of amphibians, reptiles, and mammals from Tonto National Monument, including specimen records from Arizona and U.S. natural history museum collections.

Vegetation Inventory, Classification, and Monitoring for Tonto National Monument, Arizona A 1995 survey and description of the vegetation and flora of Tonto National Monument classified and mapped plant communities, listed native and nonnative flora, and established 10 monitoring plots to document occurrence, abundance, cover, and density of perennial herbs, shrubs, and trees.
The results of the Sonoran Desert Network's first two years of vegetation and soils monitoring at Tonto NM are in! To read the summary brief or full report, click on the links. These are PDF files.