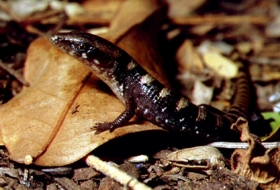 Madrean Alligator Lizard

Elgaria kingii

Body length: 3 - 5"
Diet: Insects and scorpions
Some alligator lizards are limbless, and all resemble snakes to some extent. The Madrean alligator lizard has tiny legs, and is distinguished by armor-like scales and a fold in the skin that runs the length of the body, which may allow the relatively inflexible body to expand during breathing, after feeding, or when the female is carrying eggs.
Alligator lizards are not common at Tonto National Monument, and are probably confined to the woodland areas in and near Cave Creek Canyon. Alligator lizards are generally day-active. They are often heard before they are seen, rustling through dry leaves on the ground.