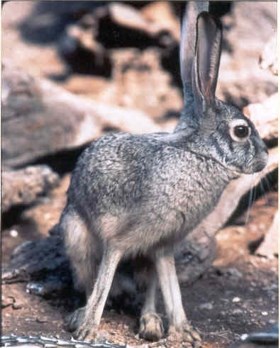 Black-tailed Jackrabbit
Lepus californicus
Body Length: 17 - 21"
Diet: Green vegetation, including tree leaves.
Jackrabbits are large hares with long legs. True to their name, black-tails have black-tipped tails, as well as black tips on their long ears. Jackrabbits live in open areas with little cover and rely on excellent hearing, exceptional speed (up to 35 mph), and their great leaping ability to avoid predators. They may travel up to several miles at night to find suitable food before returning to their home range during the day.