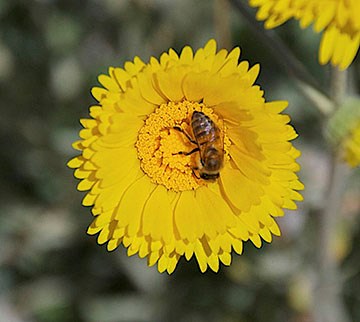 Bees
Africanized honey bees are Tonto National Monument's most common bee species. These bees are hybridized between European (or Western) bees and African bees. Africanized bees are typically more aggressive than European honey bees and are known to swarm, so BEE aware and don't swat at them!
Learn more about Africanized Honey Bees.
Another species of bees found in the monument are Carpenter bees, which are large, loud, shiny, black bees. They typically are not aggressive, but they may startle you.
Bees, particularly honey bees, are some of the most important insects known to humankind. Honey bees are arguably the biggest pollinators of plants, including agricultural crops. Unfortunately in recent years the North American bee population has dropped substantially- from more than 4 million to roughly 2.5 million. Scientists hypothesize that the decline is most likely because of Colony Collapse Disorder (CCD). A cause for CCD has not yet been proven, but is likely a combination of environmental factors, such as climate change and disease, and human caused factors, such as pesticide use.
- Written by J. Brown