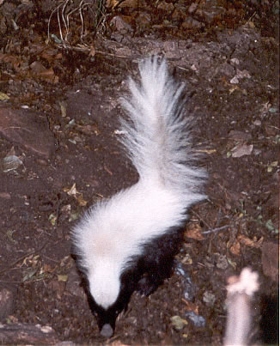 Hog-nosed Skunk

Conepatus mesoleucus
Body length: 14 - 19"
Diet: Insects and rodents
Hog-nosed skunks, the largest of the four skunks that occur at Tonto National Monument, are distinguished by an entirely white tail and lack of a white nose stripe. Note also the large snout. The hog-nosed skunk is often seen with its nose and claws in the dirt, rooting for insects; extensive areas of disturbed topsoil are a sign that one may live nearby.
Very little is known of the habits or habitat of this species, which occurs in only a handful of Southwestern states. It seems to be somewhat more common at lower elevations than other species, but here at the Monument it is most often seen in the Cave Creek Canyon area.