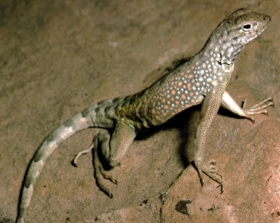 Greater Earless Lizard

Cophosaurus texanus


Body length: 1 7/8 - 3"
Diet: Insects
Many of the small, agile lizards seen along the Lower Cliff Dwelling trail are greater earless lizards. In springtime, males become very colorful and prominent, sitting on rock perches with their heads held high. Earless lizards are very energetic - when alarmed, they run in short bursts, pausing (like zebratail lizards) to wave their black-and-white striped tails. The two species are difficult to distinguish, but in zebratails the belly-marks are located at mid-body, and in greater earless lizards they are located just in front of the hind legs.
How do earless lizards manage without ears? They don't. Earless lizards in fact do have ears, but no external ear openings. It is believed that the lack of these openings may allow easier burrowing in sandy habitat.