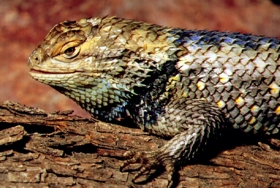 Desert Spiny Lizard

Sceloporus magister

Body length: 3 1/4 - 5 1/2"
Diet: Insects, lizards, and sometimes plant parts
The desert spiny lizard is found primarily on rocks and in sandy desert on the lower bajada slopes, whereas Clark's spiny lizards are found in trees at higher elevations. Both species occur in the area of the Visitor Center.
These two species share a distinct appearance: a dark, large head, a black shoulder wedge, heavy limbs, a spiny appearance, and a short tail. The "spines" are actually rough scales that no doubt make them a hard swallow for many predators.