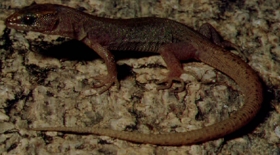 Desert Night Lizard

Xantusia vigilis


Body length: 1 1/2 - 2 3/4"
Diet: Arthropods such as insects and spiders
Night lizards are secretive lizards, living under downed vegetation and in rock crevices. They were once thought to be extremely rare, and their presence at Tonto National Monument is noteworthy. Biologists studying the ecology of this species in the early 1960's were excited to find night lizards here, and specimens from the Monument can be found in the American Museum of Natural History in New York City. Individuals have been known to turn up not only in the wild, but in park rangers' residences and the restroom at the Visitor Center.
The vertical pupil of desert night lizards, like cat's eyes, gives them away as creatures of the night and dark places. Night lizards are live-bearing, with one to three young per brood.