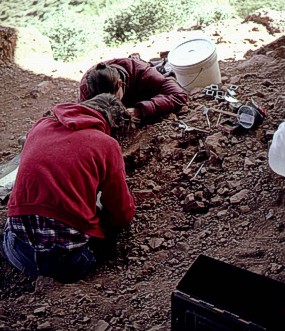 FY 2007 Research Projects

Archeological Mapping and Documentation of Sites in Tonto National Monument

Task 1 – This project involves high-resolution 3D scanning of the Upper Cliff Dwelling, and producing a map of the dwelling.

Task 2 – Backcountry Sites Mapping - This project involves mapping 41 sites to include topography, in-situ architecture, fallen walls, and any associated features. Each site will have at least one semi-permanent datum established (a zinc-plated steel rod or other monument, as appropriate).

Archeological Mapping and Documentation of Sites in Tonto National Monument

Task 1: Perform records research and create a data base to include architectural details such as room lengths and widths, height and width of doorways, thickness of walls, type of wall finishing, height of ceilings, shape of doorways, and position of hearths and other floor features.

Task 2: Inventory the Lower Cliff Dwelling for all features and deposits relevant to creation of an architectural sequence and inventory all post-occupational modifications to the ruins, including reconstructions of walls and rooms and features added by the Service or other agencies or persons involved in modifying the ruins.

Task 3: Conduct a review of previous tree-ring dating, identify any gaps in the existing samples, collect tree-ring cores or cross-section samples and submit them to the UA Laboratory of Tree-Ring Research for analysis, and identify any wood that might be useful for C-14 dating of outer rings.

Task 4: Create a formal sequence of the architectural sequences at the Lower Cliff Dwelling and Annex.

FY06 Projects

Implement Preservation Treatments at Three Primary Cliff Dwellings: This project will implement preservation treatments at two small cliff dwellings and 8 of 32 rooms outside the dripline at the Upper Cliff Dwelling.

Cyclic Maintenance of the Lower Cliff Dwelling Southern Annex: This project will implement treatment at the Southern Annex associated with the Lower Cliff Dwelling.

Backcountry Site Condition Assessments (2004 – Present): To date, formal condition assessments for 36 sites have been completed since the beginning of FY2004.

Montezuma Castle & Tuzigoot National Monuments – Tonto National Monument –Flagstaff Area National Monuments GIS Partnership: The parks will cooperatively manage and develop GIS Programs to efficiently meet the needs, goals, and core missions of the six parks represented.

Research and Record Historic Grazing Features and Roads within the Monument Boundary: Staff will begin recording and documenting known historic grazing features and the effects of grazing on natural and cultural resources in the Monument.

Assistance with Determination of Eligibility for the TONT Mission 66 Visitor Center: The park will receive assistance from a historical architect to help assess the integrity of our Mission 66 visitor center and to write a determination of eligibility if applicable.

Catalog Pre-1987 Resource Management Files: The park will receive assistance from the WACC archives division in cataloging all remaining resource management files.

Complete the Monument's Notice of Inventory Completion and Commence Repatriation of Six Burials and 27 Associated Funerary Objects: This will involve completing the Notice of Inventory Completion and gaining assistance from staff at WACC regarding facilitating access to items in the TONT collection.

Assess Library Resources for Conservation Assessment: This will involve assistance from archives staff at WACC regarding condition assessments of the TONT library collection and recommendations regarding housing rare books.

Continuing Projects High-Resolution (6mm) 3D Architectural Models using Laser Scanning Technology: This project involves Aerial Photography, Photogrammetrical Mapping and Laser Scanning of the sites to acquire architectural profiles and plan view maps.

Create a Digital Archive Detailing Stabilization Histories for the Upper Cliff Dwelling, Lower Cliff Dwelling, and Annex: This project involves examination of archival files to build on Guthrie's (1994) stabilization history report, and identify stabilization work that has been done since 1992.

Use Previously Created Digital Stabilization Archive for In-field Preservation History Recordation at a Wall by Wall Level: This project involves using documentation gathered to identify preservation treatments conducted at the Lower Cliff Dwelling, Annex, and 8 rooms outside the dripline at the Upper Cliff Dwelling.

Research Past Dendrochronology Sample Locations and Findings for the Primary Cliff Dwellings: This project involves research into existing Monument files, the tree-ring laboratory at the University of Arizona and any other appropriate sources for locational, species identification, and chronological information of wooden architectural elements at the primary cliff dwellings.

Research Historically Altered or Replaced Wooden Elements for the Primary Cliff Dwellings:This project will identify all replaced or altered wooden elements in both primary cliff dwellings.

Establish an ACCESS Database Regarding Artifact Provenience Data for the Primary Cliff Dwellings: This project will establish a database linked to planimetric site maps in the park's geographic information system.

Historic Resource Study/Administrative History: The project will examination and synthesize all known source material pertaining to the history of the monument and related region.

Historic Photograph Scanning Project: This project will compare the photographs and slides stored at TONT to those stored at WACC. Once both collections have been examined, each image will be scanned and the descriptive information entered into a photographic database.

FY05 Accomplishments

Preservation Maintenance at the Upper Cliff Dwelling: This project preserved the physical condition of the Upper Cliff Dwelling by protecting valuable artifacts that were placed into collection piles or unearthed by animals.

Prehistoric Wood Inventory and Condition Assessment: This assessment determined the type of deterioration occurring in the wood in the cliff dwellings, identified the type of wood present, and evaluated conditions at the site that influence deterioration processes.

Preservation Documentation/Treatment of Three Primary Cliff Dwellings at Tonto National Monument: The overall purpose of the project was to document and preserve three of the Monument's primary cliff dwellings.

Lower Cliff Dwelling Slope Preservation Project: This project partially stabilized the steep slope located below the Lower Cliff Dwelling with a masonry retaining wall.

Tonto National Forest Request for Cliff Dwelling Condition Assessments: National Park Service personnel were invited to participate in the assessment trip and to make recommendations.

Lower Cliff Dwelling Emergency Preservation: This project involved an emergency preservation project that stabilized several areas in the Lower Cliff Dwelling due to visitor and animal impacts.

Artifact Analysis from Ruins Preservation Projects: Over 1,000 artifacts from various preservation projects were analyzed and a ceramic type collection was prepared.

FY04 Accomplishments

Photographic Documentation and Photopoint Monitoring of Five Primary cliff Dwellings: This project created a baseline that can be reproduced through photography with successive monitoring efforts over the next 5, 10, 15, or 20 years.

Treat Upper Cliff Dwelling: The project prepared the necessary background information for treatment including architectural baseline maps, condition assessments, stabilization histories, and photographic histories.

Preserving Upper, Lower, and Annex Dwellings: Proposed work included mortar joint repointing, filling voids in wall cores, replacing deteriorated masonry, sealing wall cracks, mud plastering wall surfaces, and vegetation removal.

Preservation of Dwellings: Work consisted of resetting stones back in place on steps in the Upper and Lower Cliff Dwelling.