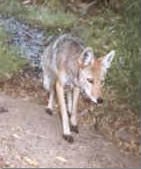 Coyote

Canis latrans

Body length: 32 - 37"
Diet: Small and large mammals, birds, fruit, etc.
In many Native American legends, Coyote is the trickster, endowed with many human traits. He is curious, mischievous, nosy, selfish, and prone to getting into trouble. His trouble-making is responsible for the stars getting all mixed up in the sky, instead of forming a perfect pattern. Fooled easily, Coyote is run over by huge rocks, impales himself on cacti, and gets bellyaches from gobbling horned lizards.
In real life, coyotes may have the last laugh. Highly adaptable to change, they have adjusted to living side-by-side with humans. After a century of trying to eradicate them (an estimated three million were killed from 1915 to 1945 alone), there are probably more coyotes in the western US than ever. In recent years they have expanded their range eastward to include every state in the Lower 48. At Tonto National Monument, the song of coyotes may be heard almost every night, particularly in lower desert areas north of the Visitor Center.