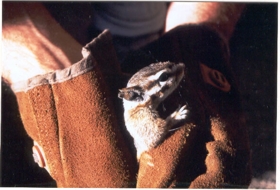 Cliff Chipmunk

Tamias dorsalis
Body length: 5 - 6"
Diet: Plant seeds, stems, and flowers
These extremely agile, bushy-tailed animals are frequently observed at the Lower and Upper Cliff Dwellings, where they can be seen running up sheer cliff walls. They apparently den in deep crevices above the cliff dwellings. In late spring, look for young chipmunks playing on the rocks and ruin walls.
The presence of cliff chipmunks at Tonto National Monument is noteworthy, because they are normally found in much higher mountain forests in Arizona. Here, they occur at elevations as low as 2,580 feet, 620 feet below their reported low range limit.