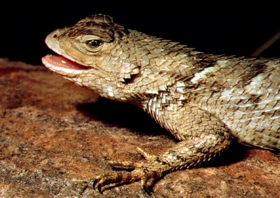 Clark's Spiny Lizard

Sceloporus clarkii

Body length: 3 - 5"
Diet: Insects and some plant parts
Clark's spiny lizards often flee into trees when they sense danger. If you chase after one, it may dart to the opposite side of the tree. If you circle around the trunk for a better view, the lizard will move to the opposite side again. The longer this game is played, the higher the lizard is likely to climb.
During the large transfers of land from Mexico to the United States in the first half of the 1800's, a number of American biologists traveled to what is now Arizona, New Mexico, and Texas to catalog the flora and fauna of the Southwest. The Clark's spiny lizard is named for John H. Clark, who collected the first specimen known to science during an expedition to survey the US-Mexico boundary in 1851.
To distinguish Clark's spiny lizards from Desert spiny lizards, look for the dark bands on the forearms of the Clark's.