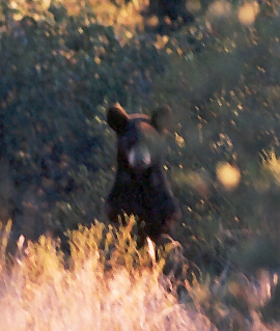 Black Bear

Ursus americanus

Body length: 5 - 6'
Diet: Berries, carrion, roots, small mammals, etc.
Black bears in Arizona are mountain creatures, mainly forest dwellers. However, they are known to venture into the desert at times, particularly to seek out prickly pear fruit, a favorite food. They are seen here at the Monument only rarely. Where black bears and humans come into contact, conflicts may occur. Bears fed by humans can become aggressive, and several very serious bear attacks in and near Arizona campgrounds have occurred during the past several years. Please do not feed wild bears! It is bad for both people and bears.
In 1986, it was estimated that 2,000 to 3,500 black bears lived in the state. Grizzly bears also lived in Arizona until the early 1900's, ranging from northern Arizona south through the Tucson area to the Mexican border. The last known kill of a grizzly in the state was near Rose Peak in Greenlee County in 1935.