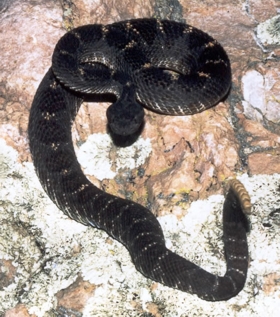 Arizona Black Rattlesnake

Crotalus viridis cerberus


Body length: 15 - 65"
Diet: Rodents, birds, reptiles, and amphibians
This black rattlesnake is a subspecies of the western rattlesnake, a widespread rattlesnake found as far north as Canada. At Tonto National Monument, they are rarely found far from wooded canyon areas. Although large individuals here can be an almost velvet black, younger snakes are usually lighter in color, with brown splotches and bluish-gray highlights.
How rattlesnakes developed rattles is a matter of conjecture. It may be as a Native American story says, that rattles were given to Rattlesnake because other animals would not stop picking on him. Most biologists believe that the rattling behavior evolved first, probably for defensive purposes, and that rattles were an improvement on the sound of a tail vibrating in dry vegetation. It's worth asking whether rattles are now a disadvantage, since so many humans kill these snakes when they hear them. As a result of our actions, are we creating a quieter rattlesnake?