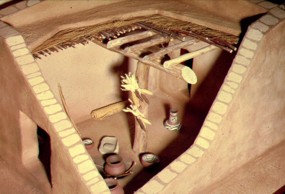 Everyone needs a place to live, and
food and water
in order to survive. Since Tonto National Monument was created because of the cliff dwellings, let's start there.
This is a typical room, based on one which burned while it was being used. The walls are made of stone and mud. The doorways are small to help keep heat in. Floors were leveled with dirt, and smoothed with a layer of clay. Near the center of the room would have been a small firepit which would have provided light, heat, and a way to cook food.
The large pieces of wood in the roof are pine or juniper, which were either burned, or cut down with stone axes, and carried to the building site. The small pieces are saguaro ribs, willow branches, yucca stalks, etc., with a layer of grass and mud on top. Around the edge of the roof is a ledge, useful for setting pots on, and keeping children from falling off! People probably spent a lot of time on the roof, since the rooms would have been dark and stuffy.
To see views of the Lower and Upper Cliff Dwellings and some of the artifacts that were found in or near Tonto National Monument, visit our
photo gallery
.