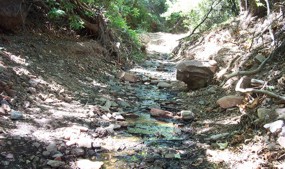 Probably the most commonly asked questions are, "What did these people eat?" and "Did they have to walk all the way to the lake to get water?"
First of all, there was no lake when the cliff dwellings were occupied, but there was a river – the Salt River. Many people lived along the valley floor, so that was probably where they got their water. The people who lived in the Upper and Lower cliff dwellings had a much closer water source – a small spring in a nearby canyon, but even so they would have had to walk about ½ mile to reach it. This was probably the women's job, but it may have been a nice break from grinding corn to feed the family!
There is no water storage area in the Lower Cliff Dwelling, but there is a cistern in the Upper Cliff Dwelling, which could have held about 100 gallons of water. For more information about the
cliff dwellings
and
water
, click on the links.