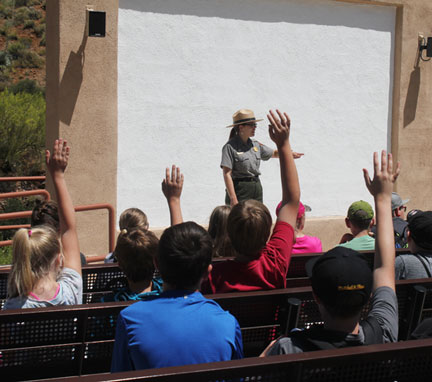 Preschool - Kindergarten: Park Rangers Like to Help!
Students will be trained as Junior Park Rangers as they explore how park rangers are community helpers and practice helping visitors to National Park sites. 30 minute in-class ranger program
4th Grade: Who's Home at Tonto National Monument?
Students will discover the many different animals living at Tonto National Monument and in the Sonoran Desert by participating in activities to classify animals and identify their defining characteristics and adaptations.
45 min in-class ranger program
Arizona Common Core Standards Met
High School:
Building a Life in Tonto Basin
Students will learn about engineering in the prehistoric southwest by exploring how the Salado people built their homes, dug irrigation canals, and engineering their food source (maize corn). 45 min in-class ranger program
All Other Grades:

We offer customized programs for all other grades interested in learning about Tonto National Monument. Please contact us to design your in-classroom program!