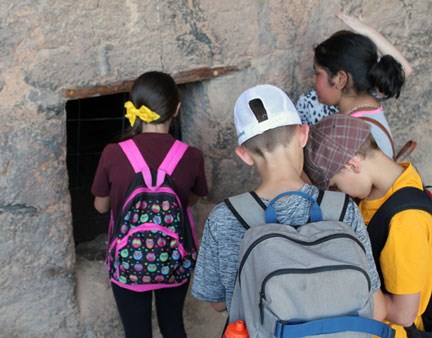 Lesson Plans
3rd/4th/5th Grade Program: The FIRST Field Trip to Tonto National Monument
Students will learn the differences between primary and secondary sources by reading
an 1880 diary entry, written by local school teacher Angeline Mitchell, about the first field trip to Tonto National Monument and then retelling the epic story.
4th/5th Grade Program: Things Stick Around
Students will learn about the different artifacts
found at Tonto National Monument and how their decomposition rate differs from the decomposition rate of modern items. Students will also explore the concept of modern preservation.
Tonto National Monument: Saving a National Treasure
Students will learn about one of the nation's most important conservation laws- the Antiquities Act of 1906- and how its passage preserved cultural sites like Tonto National Monument. This lesson plan was developed by the National Park Service's Teaching with Historic Places (TwHP) program. TwHP has created a variety of products and activities to help teachers bring historic places to their classrooms.