Kingsley Heritage Celebration
Date & Time

Multiple Days: 02/17/2018, 02/24/2018 10:00 AM to 3:00 PM

Fee Information

Free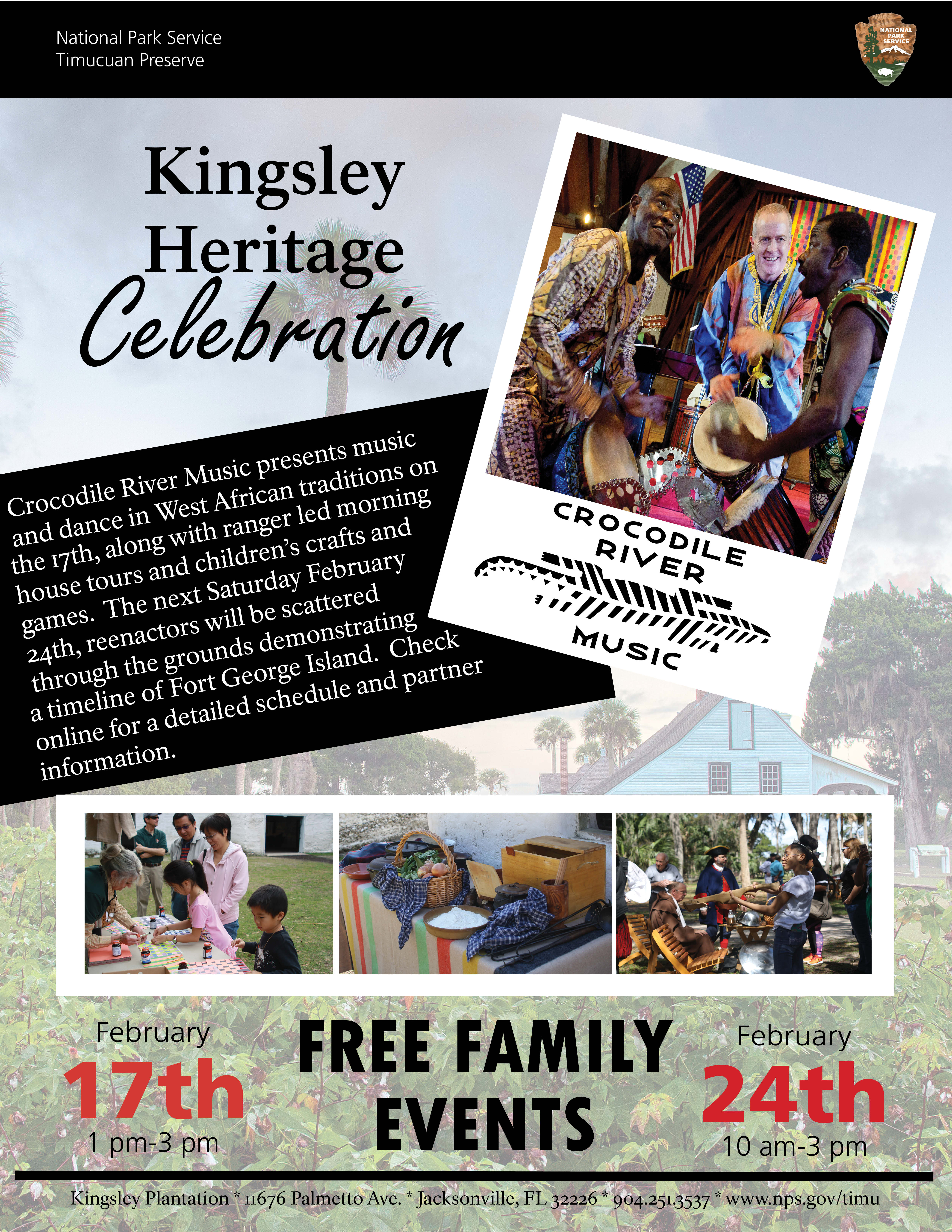 The Kingsley Heritage Celebration began as a family reunion for the descendants of all those associated with the plantation story.  Today is has grown into a community event aimed at remembering the sad history of the Plantation Era while celebrating the cultural legacy.  Through performances and living history we hope to entertain and educate.  

This free event takes place over the last two Saturdays in February.  It is open to the public.  

February 17, 2018

The performance weekend will feature Crocodile River Music, whose goal is to promote and perform African and African-influenced music that informs, connects, and inspires. Through our various programs, they aim to spread awareness and inspire new ways of cultural thinking.  Visitors will receive an unforgettable experience as they move to the beat of African rhythms and melodies!

House tours and a craft corner will begin at 10:00 am and run until the performance starts at 1:00 pm. 

February 24, 2018
On February 24th from 10:00 am to 3:00 pm a living history timeline will transport visitors through the history of Fort George Island.  Starting with the Spanish mission San Juan del Puerto, British Fort St. George, and the Plantation period, take an interactive trip through the past.  Families can try their hands at candle-making, writing with quill and ink, churning butter and so much more.  Musket demonstrations will occur throughout the day.  
---
Location:

Kingsley Plantation-11676 Palmetto Ave.



Time:

10:00 AM to 3:00 PM



Fee Information:

Free



Contact Phone Number:

904.251.3537