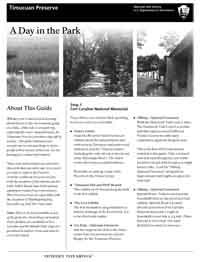 Have a day to spend at the Timucuan Preserve? This guide will show you park areas and how to get to them. You can talk with park staff at our visitor centers, take a hike (or several), explore historic sites, go to the beach, take a ride on a segway, go horseback riding or kayaking, and more!
We know you'll enjoy A Day in the Park! (pdf 1.2 MB)
We suggest that you also review:

Directions

Maps

History and Culture

Partnership Areas
"A Day in the Park" must be viewed using Adobe Acrobat Reader. To download this program (free), click here. If you have a slow internet connection, it may take a few minutes to access the file.