Destination Archaeology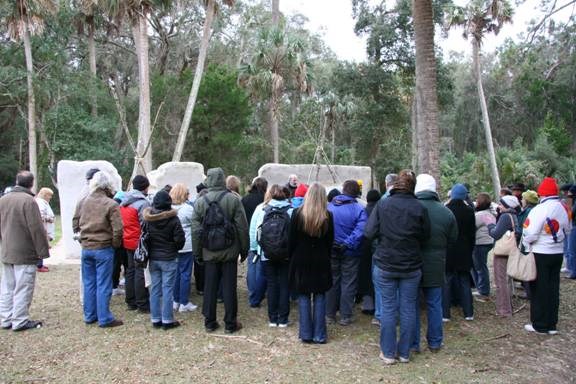 On a bitter cold Saturday, January 9, 2010, the National Park Service, Timucuan Ecological and Historic Preserve hosted Destination Archaeology at the Kingsley Plantation, in Jacksonville, Florida. The event was a part of the 2010 Society of Historical Archaeology (SHA) meetings held at the Amelia Island Plantation, Fernandina Beach, Florida.
The SHA, Florida Public Archaeology Network and others, teamed with the park to co-host the event geared towards providing conference participants and the general public the opportunity to interact with archaeologists. A variety of 15 activities, including hands-on demonstrations of Ground Penetrating Radar, historic boat building techniques for small river vessels, how the notorious Black Drink was made and used, were demonstrated. Despite the unseasonably cold weather for Northeast Florida with temperatures only topping out in the upper 30's, approximately 400 conference participants and people from the general public attended the event throughout the day.
The public and conference participants also attended lectures concerning the ongoing joint archeological research being conducted in the Preserve. Dr. James Davidson with the University of Florida and students gave enlightened talks about the archaeology of slave life at Kingsley Plantation and offered site tours. Dr. Robert Thunen with the University of North Florida and students discussed their ongoing research on the 17th Century Santa Cruz y San Buenaventura de Guadalquini mission site recently discovered in the Preserve. Park archaeologist John Whitehurst co-chaired panel discussions on Current Research in the Mocama and Timucua Mission Provinces of La Florida and Re-Assessing the Archaeology of Fort George Island, Florida 1587-2009 at the conference.
Last updated: April 14, 2015