Timucua Indians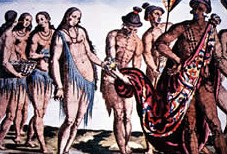 "They be all naked and of goodly stature, mighty, faire and as well shapen…as any people in all the worlde, very gentill, curtious and of good nature… the men be of tawny color, hawke nosed and of a pleasant countenance…the women be well favored and modest…"
French explorer Jean Ribault was impressed by the first native peoples he encountered in Florida. The Timucuans under Chief Saturiwa, who met the French at the mouth of the River of May in 1562, were one of a number of Timucua-speaking tribes who inhabited central and north Florida and southeastern Georgia. They were the final stage of a culture whose way of life had remained essentially unchanged for more than 1,000 years.
Learn more about their society, daily life and the end of a culture.

Archeology helps us to understand how the Timucua-speaking people lived and adapted to their environment.

Return to History of Fort Caroline.


Last updated: December 15, 2020