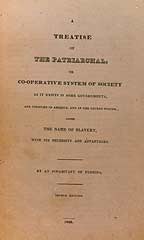 When Florida became a United States territory in 1821, Zephaniah Kingsley was an influential, wealthy planter. He was considered "a classical scholar" by one of his peers, Congressional delegate Joseph M. White.
In 1823, Kingsley was appointed to the second Florida Legislative Council by the local representative for President Monroe. In a speech to the Legislature, Kingsley addressed a subject of concern to the lawmakers: the black population of Florida—both slave and free.
Although Kingsley advocated fair treatment of black freemen for the purpose of enlisting their support in controlling slaves, the majority of Southern slave owners feared free blacks. The prevailing attitude of Florida legislators was to aggressively enforce severely restrictive laws pertaining to the freemen.
A planter who defended, and profited by, the institution of slavery, Kingsley wrote and published, in 1829, his opinions on a "patriarchal" system of slavery and furthered his arguments for "liberal provisions" for free blacks. In the Treatise, Kingsley used one of his plantations as an example and presented an idealized picture of slave life.
To read an excerpt from Kingsley's Treatise, click here.
Continue to The Move to Haiti.
Return to History of Kingsley Plantation.