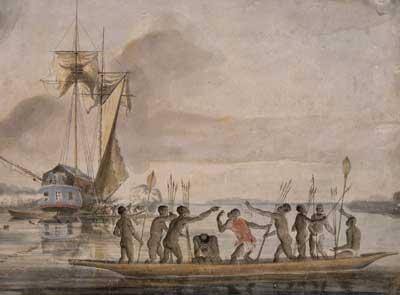 It has only been in the last couple of decades that there have been public exhibits and discussions about French participation in the slave trade. Unlike the United States, which has lived face to face with the legacy of the slave trade and slavery, the French did not have direct contact in their modern society with the legal and cultural effects of slavery and the civil rights movement.
In recent years, however, there has been great effort to recognize France's role in the trade and how the nation became involved in the transatlantic trade. As in the United States, slavery is not a popular topic, and it has been easier in France to avoid discussions due to heritage differences in France versus the United States.
Review the links, slide shows, reports, exhibits, and curriculum materials below to learn more about France and the slave trade. Some of these documents are in .pdf format and require Adobe Acrobat Reader.
Curriculum - Slave Trade, Slavery, and Remembrance (2010), project result
Wayside Exhibits at Kingsley Plantation (2010), partnership project result
Slave Trade Talk - The Transatlantic Slave Trade (2008)
Slave Trade Talk - Revolts During the Middle Passage (2010)
Weather or Not, Here I Come! (2010 article, slave trade, Kingsley Heritage Celebration)
Summary of Project for National Association for Interpretation conference presentation (2010)
Ranger Clark's Trip Report - France 2009
La France aux États-Unis, Consulat général de France à Miami Nantes et Jacksonville : 25 ans de partage 25ème anniversaire du jumelage Nantes-Jacksonville [Available in French and English - choose language on top right of webpage.]
In the Steps of the Nantes Slave Traders (brochure/walking tour) [Available in French and English - choose language from section called Dépliant "Sur les traces de Nantes, port négrier."]
Slave Trade Exhibits from Les Anneaux de la Memoire (Shackles of Memory Association):