Project Archaeology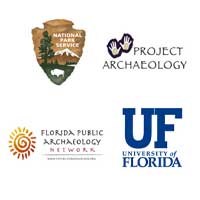 The Preserve has partnered with FPAN's Northeast Regional Center, Project Archaeology, and the University of Florida (UF) to develop archaeology curriculum materials. The lessons meet Sunshine State Standards for 3rd-5th grades. The project took advantage of exceptional archaeological finds at Kingsley Plantation, including evidence of West African culture and religion, to allow students a new way of learning about and understanding slavery. Drawing on these unique results, the lessons embrace the significance of descendant communities-not only of the people living at Kingsley, but descendants of enslaved Africans at large. Kingsley also offers an opportunity to look beyond the institution of slavery to daily life of enslaved people.
The final product features a student handbook and teachers' guide with lessons in Geography, History, Archaeology, and Today. Students read about a descendant of a slave who lived at Kingsley. They conduct "reverse excavation," placing images of artifacts in place on a tarp depicting the cabin footprint to put them in context. Students also get to learn about UF's investigation of charms and religious activity among the enslaved Africans who lived there. They imagine how using elements of cabin technology could positively inform creation of modern shelters. Finally, students consider civic responsibility, law, and challenges of site preservation.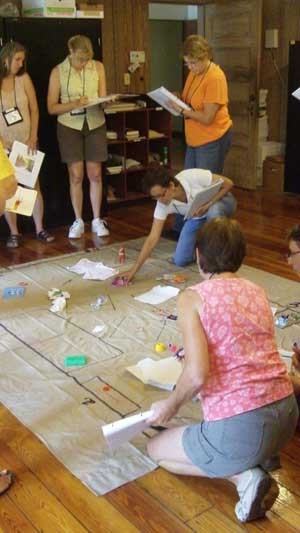 Teacher Workshops are offered every spring at Kingsley Plantation. There educators are introduced to the entire Project Archaeology curriculum. They tour the site with a Ranger, participate in the hands-on lessons, and discuss ways to use and adapt Project Archaeology to meet their classroom goals.
2017 Workshop Dates: TBD
More Information to Follow
Resources:
Investigating a Tabby Slave Cabin- Student Notebook
Investigating a Tabby Slave Cabin- Teacher Instructions
Last updated: July 17, 2020