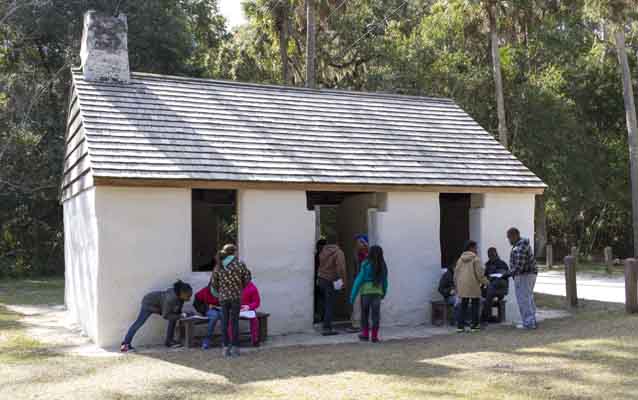 Grade Level:

Kindergarten-Second Grade

Subject:

African American History and Culture, Colonial History, History

Duration:

45 Minutes

Group Size:

Up to 36 (6-12 breakout groups)

Setting:

in the park

National/State Standards:

W.2.8, RI.2.3, RI.2.10

Keywords:

Slavery
Overview
This on-site scavenger hunt worksheet will aid early elementary students in exploring Kingsley Plantation. 
Objective(s)
 This lesson guides students through the buildings and locations of Kingsley Plantation engaging them to think about the history of structures still standing today.  
Materials
History Hunt Worksheet 
Procedure
 Print out a classroom set of worksheet prior to your scheduled visit to Kingsley Plantation.  Remember to instruct students to bring pencils on the day of the field trip.  
Use this worksheet as part of either a self-guided or a ranger guided field trip.  If you are attending a ranger talk please save the activity for after your program.  Instruct students to follow the instructions on the worksheet.  
Assessment
 Tabby Slave Cabins - Drawing should include a wooden roof and may include barrels, benches, enslaved people and plantation period objects. 
Garden - Answers vary.
Kitchen House - The kitchen house was in a separate building to prevent fire from spreading to to keep the main house cooler.  Anna Kingsley lived in the kitchen house.
Planter's House - Answers vary.
Barn - Plow and Scythe.
Dock - Map activity.   
Park Connections
To schedule a field trip please call 904.251.3537. 
Vocabulary
slave, cabin, planter, cotton
Last updated: April 14, 2015