Lesson Plan
A Day in the Life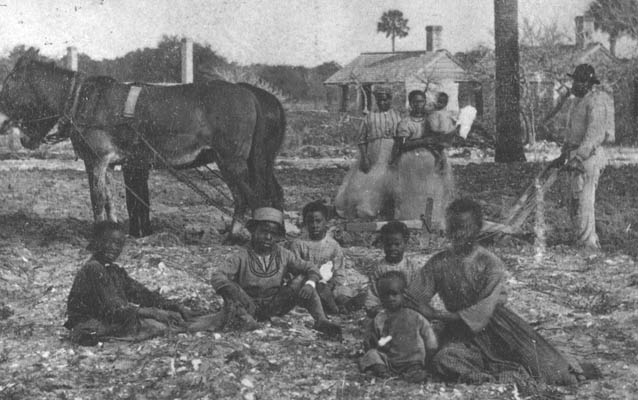 Grade Level:

Third Grade-Fifth Grade

Subject:

African American History and Culture, Agriculture, History, Social Studies

Duration:

20 Minutes

Group Size:

Up to 36

Setting:

classroom

National/State Standards:

SS.A.6.2.5, SS.B.2.2.2, SS.D.1.2.2, LA.A.2.2.1, LA.B.2.2.1

Keywords:

Task System
Overview
Students will understand the daily tasks and family chores completed by different members of a slave family by matching the task with the member performing the task.
Background
Tasks on the plantation were often done by anyone - man or woman - who was healthy. During the times when crops were being harvested, the work was often a race to beat approaching bad weather. But generally, tasks were specifically assigned to men, women and children based on the strength and skill required. Men were usually assigned the heaviest field work. Some men were skilled craftsmen, such as carpenters or blacksmiths. Women were given field work such as picking and harvesting. Children usually performed the lightest of the plantation work, such as hauling water from the well, running errands around the plantation, and assisting cooks or other domestic and skilled workers.
In this exercise Lucy is the grandmother, helping with the youngest slave children and performing tasks around the slave quarters such as preparing meals and keeping house. Demo is the father and the mother is Malena. Flora, their daughter, helps around the plantation and with light kitchen work. Alick is the two year old son and is too young for tasks.
Materials
Procedure
Explain the task system to the class. Pass out worksheet and read directions out loud. Children can complete the worksheet alone or in pairs.
Assessment
Worksheet Evaluation:
After-Task
Sewing and Mending - Malena (mother)
Whittling wood - Demo (father)
Gathering nuts and grapes - Flora (daughter)
Telling stories - Lucy (grandmother)
Playing games - Alick (little son)
Task
Blacksmith - Demo (father)
Tending Alick - Lucy (grandmother)
Picking cotton - Malena (mother)
Hauling water - Flora (daughter)
Vocabulary
Task, Slaves, Craftsmen
Last updated: April 14, 2015