Longhorn Steers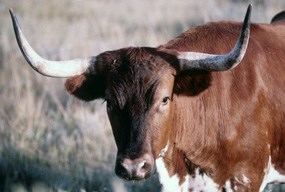 Theodore Roosevelt arrived in Medora just as the cattle ranching boom was beginning, and the extermination of bison in the west was coming to an end. At the time, cattle drives were a common sight on the plains as cowboys moved herds of longhorn and other cattle from as far away as Texas to fresh pastures in the Dakota Territory. The Long X Trail, which passed through what is now the North Unit of Theodore Roosevelt National Park, was one of several routes cowboys used to drive their cattle north. Roosevelt became enamored with the landscape and the cowboy lifestyle, and invested in his own cattle ranching operations through the late-1880s. To reflect the living landscape as Roosevelt experienced it, the Park maintains a small demonstration herd of longhorn steers in the North Unit.
Maintaining the longhorn herd is an ongoing effort for the Park. The original herd of six longhorn steers established in 1967 was supplemented with new steers periodically through 1981. Without the addition of new steers, the herd's population slowly declined over the following 26 years. With only four aging steers remaining in 2007, the Park began to replenish the herd, beginning with two young steers from Grant-Kohrs Ranch National Historic Site. Two young steers will be added to the herd each year through 2011, up to a maximum herd size of fourteen. An encounter with the longhorn herd offers visitors a window into the enchanting badlands scene Theodore Roosevelt fell in love with in 1883.
The longhorn cattle historic demonstration herd is funded by park fee monies.
Last updated: April 10, 2015