Long X Trail
The Long X Trail was one of the routes that cattlemen used to move cattle from southern parts of the country to the prairies of modern-day eastern Montana and western North Dakota. The trail was a convenient route across the difficult terrain of the northern Little Missouri Badlands, and it passed through what became the North Unit of Theodore Roosevelt National Park.
In the 1880s, during the time Theodore Roosevelt was involved with cattle ranching operations in the Dakota Territory, cowboys were moving herds of cattle by way of the Long X Trail. Roosevelt himself is not known to have used the Long X Trail to move his cattle.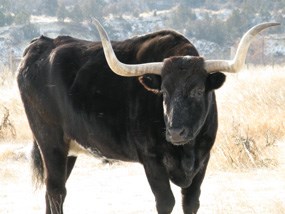 The park keeps a small herd of longhorn steers as a living history exhibit in the North Unit. Click here to learn more about the park's longhorn steers.
Last updated: April 10, 2015