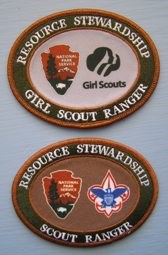 Individual Patch
This an individual award for scouts who participate for a minimum of 10 hours in an organized education program and/or volunteer service project at a national park unit.
Qualifying organized educational programs include:
Ranger-guided interpretive tour
Cultural or historic demonstration program
Junior Ranger program
Natural environmental and resources education program
Any other official NPS education program
Qualifying volunteer service projects include any organized project that helps and enhances the natural and/or cultural resources of a park unit. Volunteer service can include - but is not limited to - performing trail restoration, campsite cleanup, and any activities for which the park identifies an appropriate volunteer opportunity.
Scouts can qualify for this patch as a part of a troop unit or as an individual.
Scouts are on their honor to report their activities and time accurately. Scouts will be awarded a patch upon verbally reporting their completion of the program requirements to a park ranger.
All volunteer service project hours will be recorded under the Volunteers in Parks Program (VIP).
All scouts will need to sign a volunteer agreement in order to participate in a volunteer service project.
All participants under 18 years of age will need parental permission in order to participate in a volunteer service project.
All scouts completing the requirements for the Junior Ranger program will also qualify for a Junior Ranger badge.
Contact Us to ask about the program and how you can participate!