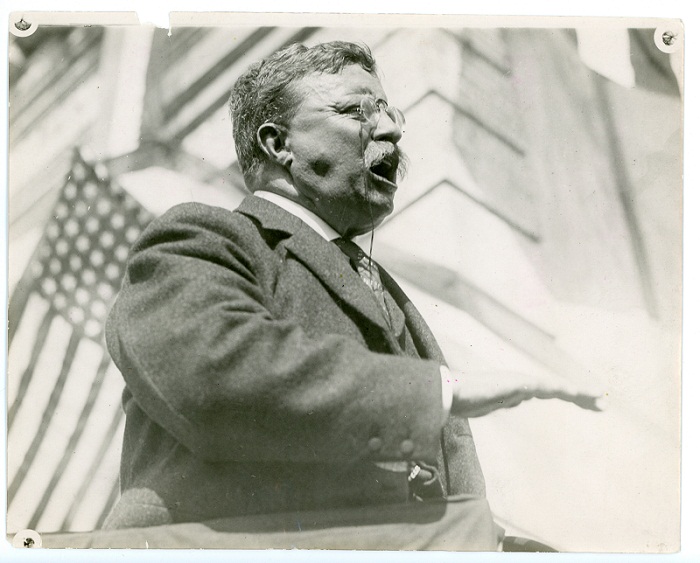 "TR in '12," an exhibition organized by the Theodore Roosevelt Association in cooperation with the National Park Service and the Oyster Bay Historical Society, was temporarily displayed in the Lower Gallery this summer. The exhibit has moved to the Oyster Bay Historical Society and can be viewed through November 11th, 2012. Visit Oyster Bay Historical Society for more information.
In 1912, Theodore Roosevelt ran for a non-consecutive third term as President. The historic election was in many ways a culmination of TR's political philosophy and cemented his image to the public as someone who was as strong as a Bull Moose.
For the campaign, TR broke from his Republican Party to form the Progressive Party a.k.a. the Bull Moose Party. Ultimately TR would lose the 1912 election to Woodrow Wilson. He and his successor, William Howard Taft split the Republican vote, allowing Democrat Wilson to win the election. TR beat Taft and gathered 23% of the popular vote, making him the most successful third party presidential candidate in American history.
While on a campaign stop in Milwaukee, TR survived an assassination attempt. John Schrank, an anti-third term fanatic, claimed that he was told in a dream to shoot TR. As TR prepared to give a speech, he was shot in the chest. Luckily, he had his folded speech and eyeglass case in his breast pocket. They deflected the bullet and protected TR from suffering a more serious wound.Theodore decided that he did not recieve a mortal wound, so he gave his speech anyway. Shrugging off his aides, he spoke off the cuff for nearly an hour! He quipped, "it takes more than that to stop a Bull Moose!"
Explore this fascinating history with a visit to "TR in '12."