Gallery Upgrade at Theodore Roosevelt Birthplace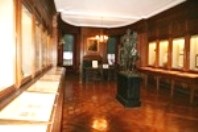 We are working to update the display cases in the historic home's two galleries. While this work will effectively close the galleries until further notice, the period rooms will be available for viewing during the site's regularly scheduled house tours.
The principal change in both galleries is replacing the display case lighting with low-voltage LED which are more energy efficient and less damaging to the historic artifacts.
During this process, which is expected to last for several months, the artifacts will be removed from the display cases to museum storage for cleaning and conservation. When the exhibit is re-installed, some particularly delicate items will be replaced by other artifacts from the site's collection or with period reproductions to protect the originals.
We apologize for the inconvenience. Please visit us on the web for a virtual tour that includes the two galleries, follow us on Twitter for updates (@TRBirthplaceNPS) or we hope that you come back soon to view the exhibits upon completion.
Have you ever wondered why flash photography is not allowed in museums or historic houses?
The flash on your camera generates a small amount of ultra-violet (UV) light. The UV light is a powerful oxidizer that bleaches color out of many materials that are on exhibit (cloth, paint, wood and paper) if given enough exposure time. Electronic flash is essentially the equivalent of sunlight and thus can have the same harmful effect on historic artifacts if used by enough of our visitors.
Since our display cases pre-date research into the effects of UV light, the current fluorescent lighting is causing the same type of photochemical damage as your camera flash. The new low-voltage LED lighting will improve the long-term preservation of the objects while still allowing future visitors to view and learn from the nationally-significant collection.
We appreciate your assistance in preserving and protecting the museum artifacts throughout the Birthplace.
If you would like to learn even more about how light affects artifacts, click here to read an article about the 'Star-Spangled Banner'.
Last updated: March 31, 2012