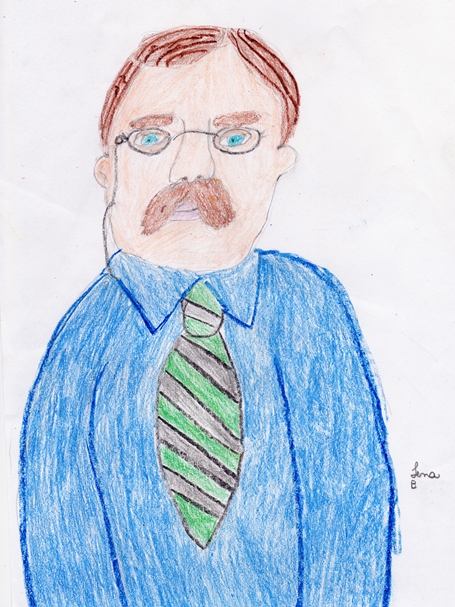 Attention Young Artists:
Submissions are being accepted for the new 'Theodore Roosevelt Art Exhibition' gallery! Have you drawn or painted images of our 26th president? Would you like to share them with other Theodore Roosevelt fans? Young people, up to 14 years old, are invited to submit their T.R. - inspired artwork, whether it is a portrait, or an image of Theodore at work or play. Remember to get your parents' permission before sending your creation!
To submit your artwork, attach a scanned JPEG image (preferred), or a photographed JPEG image of your art to an e-mail, include: The title of your work, as well as the medium (pencil, crayon, paper, etc.) Also include your first name/last initial or nickname, age, and hometown in the e-mail, please let us know if you want it included in the image caption, and send to: dprebutt@nps.gov . A maximum of three (3) entries will be accepted per person. Please note: We regret that we can no longer accept volume entries from single sources.
Would you like to share this with others? View a printable flyer.
All submissions will be subject to consideration for inclusion in the exhibition which will appear in the Theodore Roosevelt Birthplace N.H.S. Photo Gallery, and all decisions are final. All artwork that you submit must be your own work. Images that are deemed to be inappropriate will not be posted to the website. Submission of an entry shall constitute the grant of a non-exclusive, royalty free license to the National Park Service, to reproduce, display, prepare derivative works, distribute to the public, including but not limited to publication on the World Wide Web and interpretive publications. By submitting the image, the author permits the National Park Service to utilize it and waives any compensation for its use. By adding your entry to the 'Theodore Roosevelt Art Exhibition' gallery, you authorize the National Park Service to use your entry for educational and informational purposes in perpetuity. While it is our intent to use these images for non-commercial, educational purposes, we make no warranty regarding use or credit once images have entered the social media stream.