'The Adventures of the Crooked House'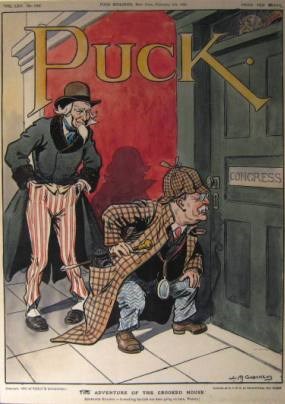 In the fall of 1908 through winter of 1909, Senator Aldrich and the House of Representatives began demanding an inquiry into President Roosevelt's inflammatory words against Congress. Prior to Congress' call to action, Roosevelt insinuated that Congress did not "wish to be investigated" by the Secret Service and that Congress maybe a "criminal class." During this period, Roosevelt was trying to expand the Secret Service's role from Presidential security and counterfeiting to also include investigations on issues he deemed necessary i.e. anti-trust probes. Congress was wary of the increasingly expanding presidential powers and reports that the Secret Service was being utilized by the president to harass political opponents.
The image by Louis M. Glacksens, published in Puck Magazine, on February 3, 1909, illustrates the untrusting relationship between Theodore Roosevelt and Congress. Roosevelt (as Sherlock Holmes) and Uncle Sam (as Watson) are spying on Congress while an elderly man representing special privileges is looking out of the transom above the door.
Last updated: February 26, 2015