Field Trips
Wings Over Woodlands and Wetlands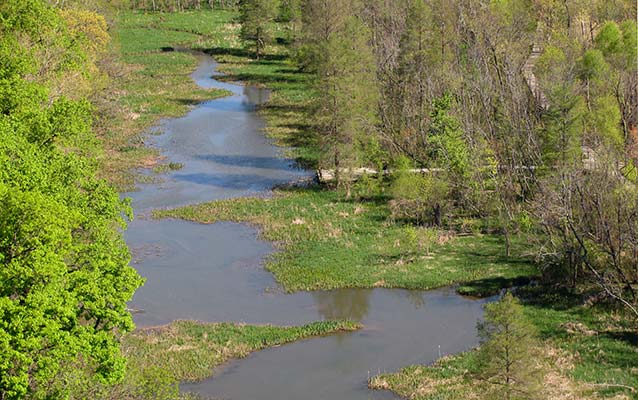 Description
Wings Over Woods and Wetlands is a two and a half hour program that gives students a chance to explore a variety of topics pertaining to the lives of birds and their use of Theodore Roosevelt Island. The island provides an ideal setting for examining such concepts as migration, adaptations and habitat. Over the course of a year it is frequented by nearly 200 bird species. This program also familiarizes students with Theodore Roosevelt, 26th president of the United States, and an avid birdwatcher.
The field trip begins at the heart of the island. There, a 17-foot bronze statue of Roosevelt greets them in a memorial that, like the island, is surrounded by water. Following a brief discussion of the National Park Service and Roosevelt as a young naturalist, students will be introduced to the concept of habitat and discuss the adaptations or tools people use to survive in their habitat.
Students will then examine the adaptations birds use to survive in their habitats. Through a series of participatory activities, they will discover what makes birds unique, from feathers and wings to hollow bones. Other activities will allow students to consider differences among beaks and feet and discover how they can "talk" to the birds.
A journey to the tidal marsh on the island's south end will give students the opportunity to use a spotting scope to look for birds in a wonderful wetland setting. They also will have a chance to discover differences in habitat.
This observation period is followed by a quiet time for students to draw a picture or write a poem based on the experience they have had or the birds they have seen.
The island visit ends back at the memorial, where a brave student volunteer will actually become a bird--a fun and entertaining way to review what was learned during the day's adventure.
Related documents:
Pre-visit Activity: The National Park Service
Pre-visit Activity: Six Birds of Theodore Roosevelt Island
Pre-visit Activity: Built To Do the Job Right
Contact
Brent O'Neill
301-320-1400
Details
Subject:

Biology: Animals, Ecology, Environment, Wildlife Biology

National/State Standards:

District of Columbia (Science 1.4, 2.6, 2.7, 3.5, 5.12)
Maryland (Science 1st grade 3A and 3E; 2nd grade 3F; 4th grade 3A, 3D, and 3F; 5th grade 3A)
Virginia (Science 1.5, 2.5, 3.4, 3.5, 4.5)

type:

Field Trips