Thing to Do
Visit A Bench By the Road at Fort Moultrie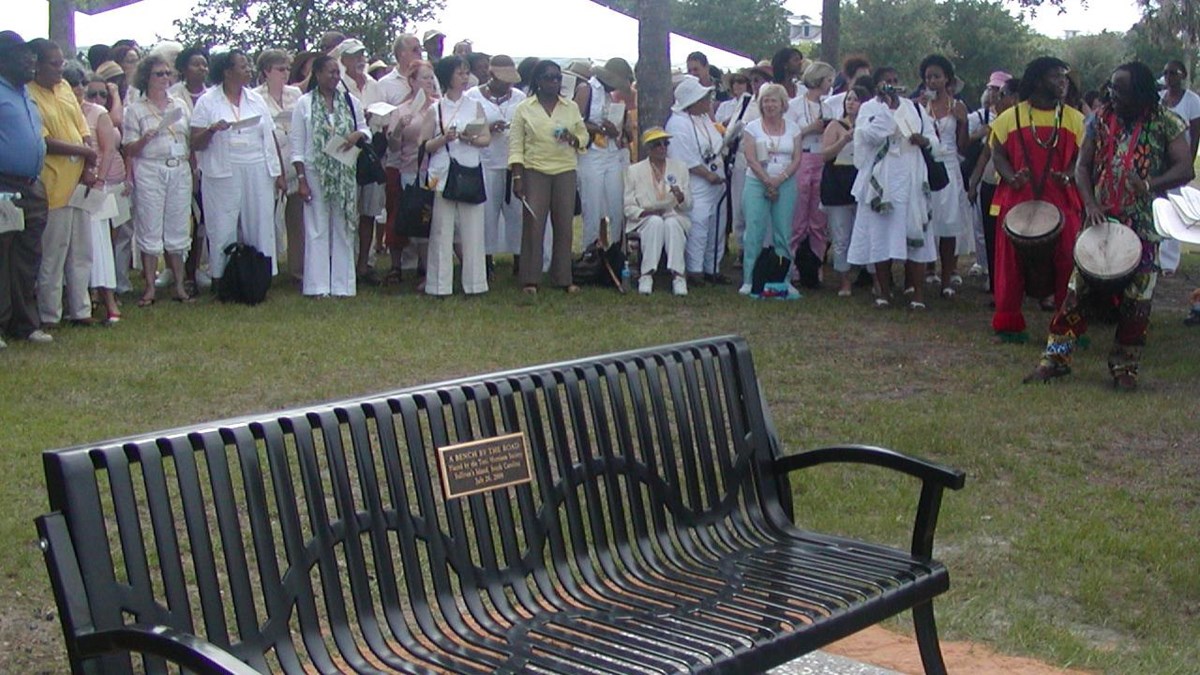 Walk down to the bench overlooking the Intracoastal waterway to reflect on the largest forced migration in world history. The forced exodus of West Africans to the New World often ended in Charleston, the entry point to nearly half of the captive Africans shipped to North America. Beyond the military defense, Sullivan's Island had quarantine stations to protect the colony from deadly diseases. Between 1707 and 1799, when passengers aboard arriving ships carried infectious diseases, their free or enslaved passengers were quarantined either aboard ship or in an island "pest house." During this time, four pest houses were constructed on Sullivan's Island, though never more than one existed at the same time. All were built between Fort Moultrie and the western end of the island. The exact locations are unknown. The Bench by the Roadside serves as a reminder for those Africans captured in the slave trade, whose lives were forever changed. Approximately, 2 million Africans died during the Middle Passage.
All ages, but minors younger than 16 years old must be with an adult parent or guardian.
 
Dogs must be kept on leashes
There is a National Park Service entrance fee charged for Fort Moultrie.
Location
Fort Moultrie Dock
Follow the sidewalk from the Fort Moultrie Visitor Center to the dock. You will walk passed the parking lot. Before going onto the dock, turn to your right and walk on the grass beyond the picnic tables. Here you will find a bench that is facing the marsh and Intracoastal waterway.
Accessibility Information
The sidewalk from the Visitor Center to the dock is accessible. It is a flat surface. Just before the dock, you will need to walk on a grass and sandy dirt field to reach the bench.Be careful of several tree roots on the surface. This area is relatively flat as well.

The bench is comprised of black steel slats perpendicular to the ground with two curvy metal slates running across the other slats. There is a small bronze plaque that is attached to the center back of the bench that reads:"A Bench By The Road Placed by the Toni Morrison Society, Sullivan's Island, South Carolina, July 26, 2008." A second larger bronze plaque is centered in oyster shell cement composite on the ground in front of the bench and reads, "A Bench By The Road. There is no place your or I can go, to think about or not think about, to summon the presences of, or recollect the absences of slaves; nothing that reminds us of the ones who made the journey and of those who did not make it. There is no suitable memorial or plaque or wreath or wall or park or skyscraper lobby. There's no 300-foot tower. There's no small bench by the road.Toni Morrison 1989. The bench by the Road Project was launched by the Toni Morrison Society in honor of Nobel Laureate Toni Morrison. This first bench is placed in memory of the enslaved Africans who perished during the Middle Passage and those who arrived on Sullivan's Island, a major point of entry for Africans who entered the U.S. during the Transatlantic Slave Trade. Nearly half of all African Americans have ancestors who passed through Sullivan's Island.July 26, 2008Toni Morrison Society, Inc." 



 
Last updated: October 26, 2020