Thing to Do
Stargazing at Cap Rock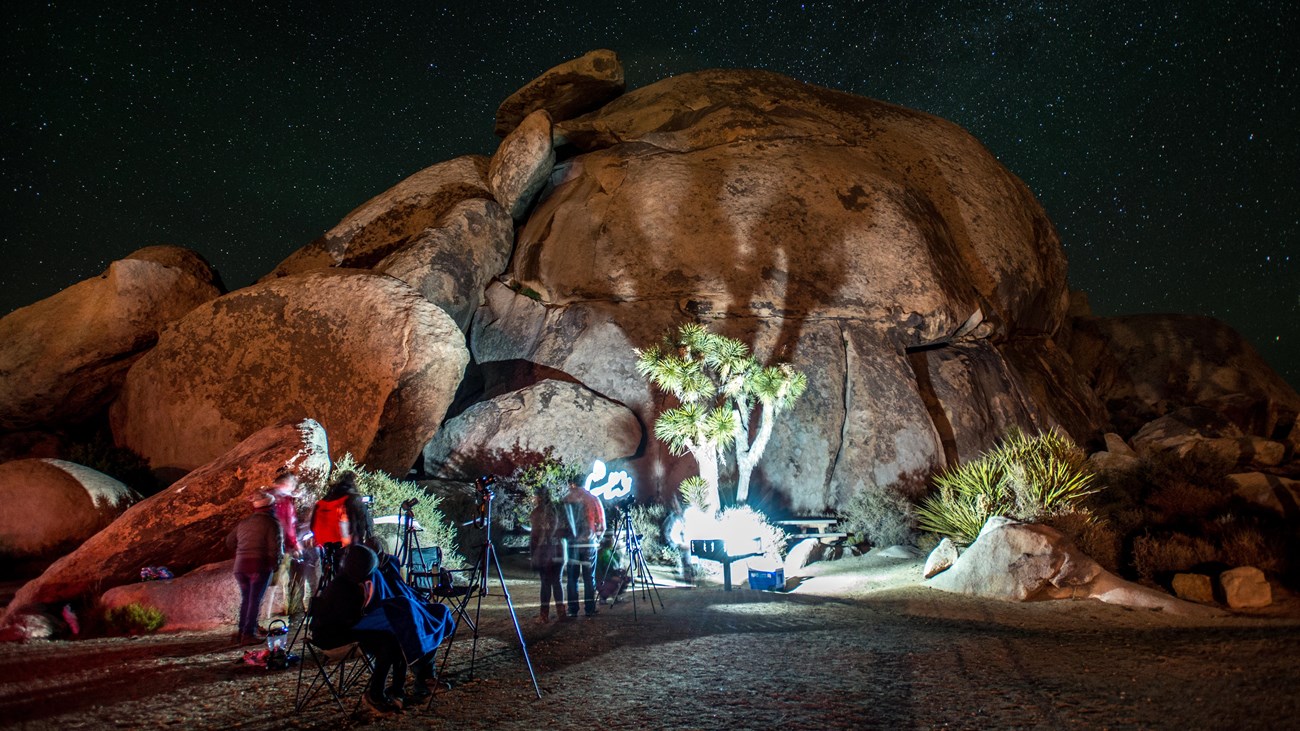 Joshua Tree National Park boasts some of the best night skies in Southern California. As an International Dark Sky Park, visitors are able to enjoy a spectacular night sky. Cap Rock is an easy to reach central location where you can enjoy the night sky over the iconic Cap Rock nestled among the park's famous Joshua trees. Picnic tables sit close to the parking area and can be an ideal spot to set up a tabletop telescope. Pets are allowed within 100 feet of the road and they access most of the Cap Rock picnic tables that are close to the parking lot. Pets must be on-leash at all times and cannot go on the Cap Rock Nature Trail. 
Considerations
Bring a red tinted flashlight so that you can safely walk around without hurting your night vision. It takes 20 to 30 minutes for your eyes to fully adjust to the darkness.
Check the weather. Clouds will block your view and nights can be considerably cooler than the day.
Check the moon. If you want to see the Milky Way, visit during a new moon for the darkest skies. While the night sky is popular year round, May and June are often considered the peak time for viewing the Milky Way as it can be seen arching over the eastern horizon just after dark. Full moons will reduce the number of stars that can be seen but will light up the landscape to make it easier to see the scenery at night.
Preserving the Night Sky
Light pollution from nearby communities threatens the naturally dark night sky. Light pollution not only threatens the naturally dark night sky that stargazers enjoy, but also threatens the dark environment that nocturnal animals depend upon for survival. Learn more about how to reduce light pollution.
Entrance fees may apply, see Fees & Passes information.
Accessibility Information
The terrain of this area may be suitable for some wheelchairs, but not all. The picnic area is mostly flat dirt and sand, with some vegetation and uneven terrain, including bumps and rocks. Service animals are allowed. Emotional support animals are allowed on-leash within 100 feet of the parking lot, but are not allowed on trails. 
Last updated: March 12, 2021