THING TO DO
Find George Washington's Second-Favorite Horse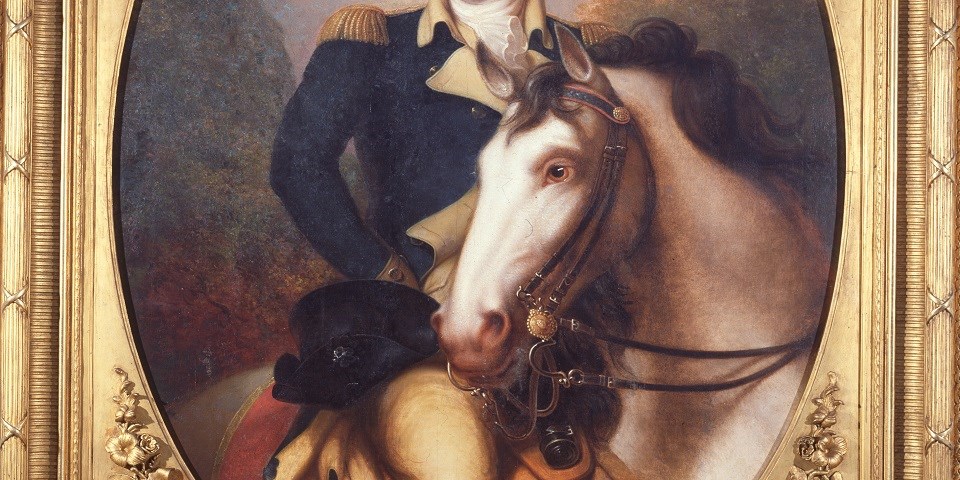 Look for the man with the halo.
Among the hundreds of portraits in the
Portrait Gallery in the Second Bank
, you'll find Rembrandt Peale's portrait of George Washington astride his magnificent white steed, Blueskin. Though this is the horse that often appears in paintings of George Washington as a general, Blueskin rarely saw battle. During the Revolutionary War, Washington preferred his less skittish brown horse, Nelson. In fact, George Washington chose to ride Nelson on the day that General Cornwallis surrendered in Yorktown. But painters constantly choose Blueskin for their portraits, instead of Nelson—after all, a general on a white horse looks more impressive than a general on a brown horse.
More than 100 portraits by painter Charles Willson Peale form the core of the collection in the Portrait Gallery in the Second Bank. During the late 18th and early 19th centuries, Peale asked those "worthy Personages" who exhibited the republican virtues of public-spiritedness, self-sacrifice, and civic virtue to sit for him. These portraits, as well as other works by his son Rembrandt and his brother James were once exhibited in Peale's Philadelphia Museum, located on the second floor of Independence Hall.
Pets are not allowed, unless designated assistive animals.
Entrance fees may apply, see Fees & Passes information.
Location
Portrait Gallery in the Second Bank
The Second Bank of the U.S. is located on Chestnut Street, between 4th and 5th Streets. Enter through the doors at the top of the steps, or through the wheelchair accessible ramp on the west side of the building.
Accessibility Information
The Portrait Gallery in the Second Bank is accessible for visitors with mobility impairments. The accessible entrance ramp is located on the west side of the building. The gallery level is reached via elevator. Accessible restrooms are located in the basement near the elevator.
Last updated: June 29, 2018