THING TO DO
Hike Stony Man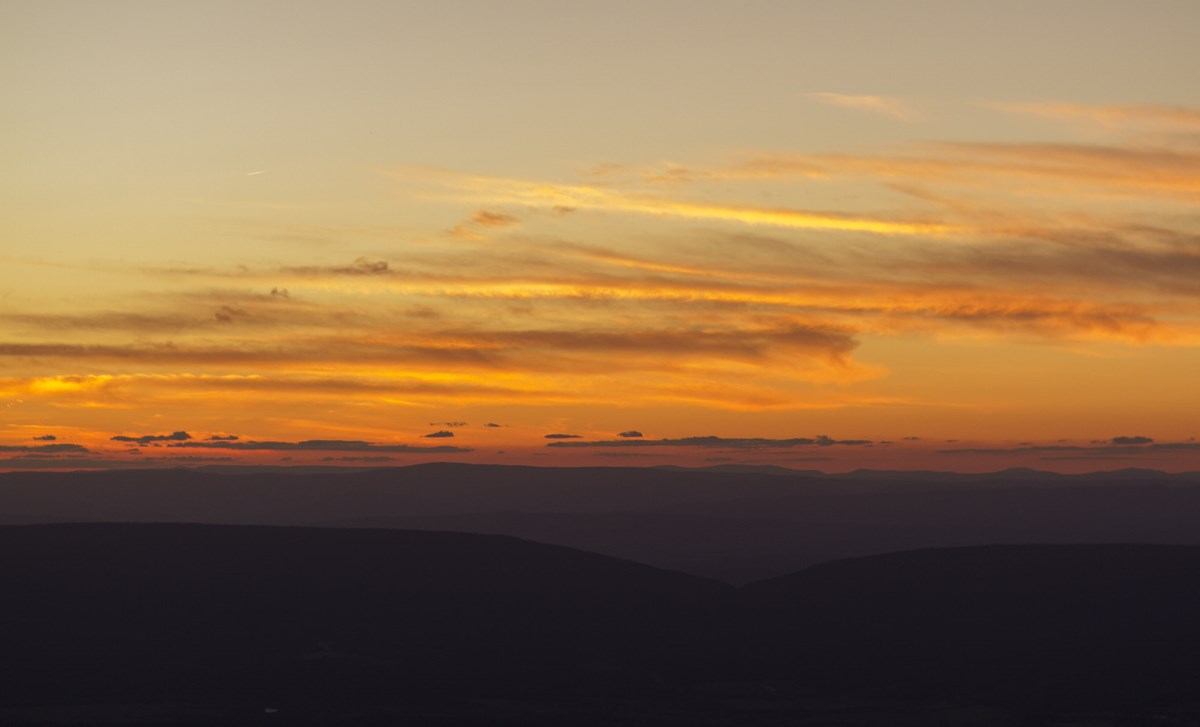 Hike Stony Man
Difficulty rating:
Easiest
Distance:
1.6 mi/2.5 km
Elevation gain:
450 ft/137 m
Trail features:
Walk through the forest at a steady uphill grade and reach a rock outcrop with scenic views across the Blue Ridge Mountains and Shenandoah Valley below.
Stony Man is a popular rock outcrop in Shenandoah that can be reached through a 1.6 mi/2.5 km hike. From the parking area take the Appalachian Trail (A.T.) to the trail marker. Continue on the blue-blazed Stony Man Trail to the viewpoint. Finish the Stony Man Trail circuit to the intersection with the A.T. and retrace your steps to your starting point.
Nearby Hike: Passamaquoddy Trail Loop
Difficulty rating:
Moderate
Distance:
3.4 mi/5.5 km
Elevation gain:
770 ft/234 m
Trail features:
Multiple viewpoints and rock outcrops.
The Passamaquoddy Loop is a 3.4 mi/5.5 km circuit that goes around Stony Man. From the north end of the Stony Man parking area, look for the trail post and the yellow-blazed Furnace Spring Horse Trail. Take it to the blue-blazed Passamaquoddy Trial where you will turn right. Follow the Passamaquoddy Trail to its junction with the A.T., turn right and follow it back to the parking area. Little Stony Man Cliffs is a viewpoint/rock outcrop along the Passamaquoddy Trail. For a shorter .9 mi/1.4 km hike just to the Little Stony Man viewpoint, begin your hike at the Little Stony Man Parking and take the Appalachian Trail south (left) until it connects to the Passamaquoddy Loop. Follow Passamaquoddy a short way until you hit the viewpoint then retrace your steps.
Note:
The trail network in Shenandoah National Park consists of many intersections. The trails listed here can be connected to create multiple route options. When hiking, bring a map and pay close attention to the trail markers to make sure you are following the route you planned for yourself.
The Stony Man Hike is an easy 1.6 mi/2.5 km circuit. The Passamaquoddy Loop is a moderate 3.4 mi/5.5 km loop.

An average pace is:
1.5 mph for easiest trails.
1.4 mph for moderate trails.
1.3 mph for moderately strenuous trails.
1.2 mph for strenuous and very strenuous trails.
Pets are not allowed on the Stony Man Trail. Pets are allowed on the nearby Stony Man Horse Trail, Furnace Spring Trail, Passamaquoddy Trail, and Appalachian Trail.
The park entrance fee is required.
Location
Skyline Drive mile 41.7
Trailhead for Stony Man Trail is located near the north entrance of Skyland at mile 41.7 of Skyline Drive. Turning into the north Skyland entrance from Skyline Drive the parking area will be immediately on the right. 
Accessibility Information
Service animals are allowed on Stony Man Trail. All other pets are not allowed on this trail. Pets are allowed on the Passamaquoddy Trail and the Appalachian Trail.  
Last updated: December 8, 2017