THING TO DO
Hike Limberlost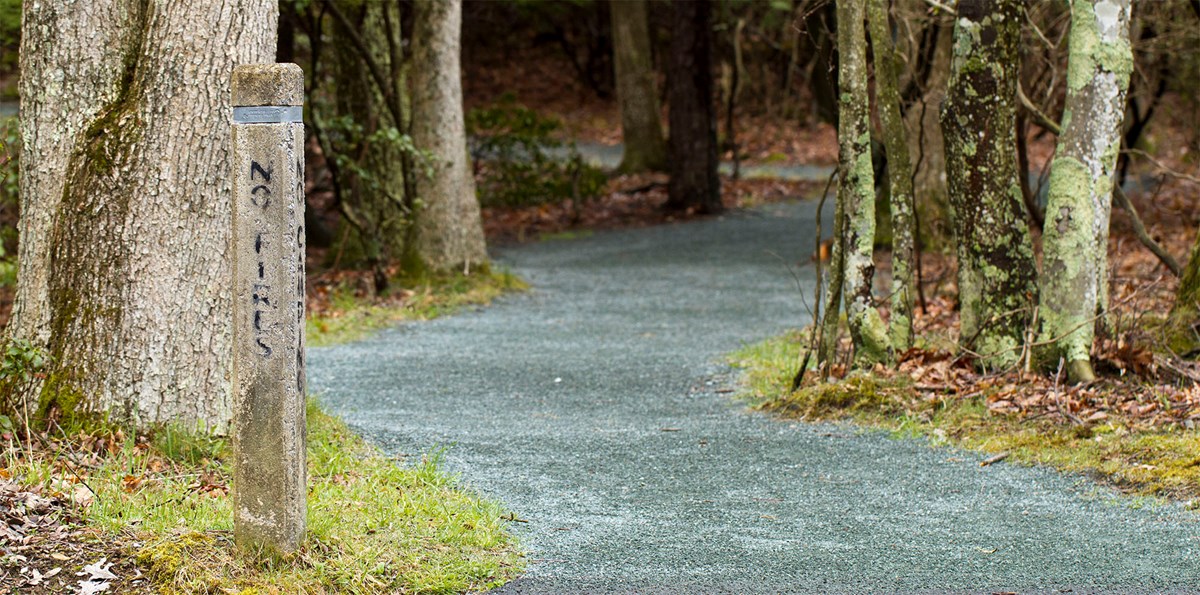 Difficulty rating:
Easiest
Distance:
1.3 mi/2 km
Elevation gain:
130 ft/39 m
Trail features:
A walk through the forest with mountain laurel in the springtime and an example of a columnar jointing geological feature. Limberlost is recommended for birding.
TRACK Trail for Kids:
Limberlost is a part of the Kids in Parks program!
Learn about participating in the TRACK Trail program at Limberlost.
Limberlost Trail is a 1.3 mi/2 km fully accessible trail in the Central District of Shenandoah National Park. The trailhead is located at mile 43 of Skyline Drive. The trail is a circuit loop. From the trailhead, take the trail to the right and follow the greenstone path in a circuit until you are back to your starting point. There are many benches and wheelchair pullouts along the trail.
The trail is 1.3 mi/2 km. 

An average pace is:
1.5 mph for easiest trails.
1.4 mph for moderate trails.
1.3 mph for moderately strenuous trails.
1.2 mph for strenuous and very strenuous trails.
Pets are not allowed on Limberlost Trail.
The park entrance fee is required.
Skyline Drive will close during winter if weather conditions arise. If Skyline Drive is closed Limberlost Trail will not be accessible. 
Time of Day
Day, Dawn, Dusk
Accessibility Information
Limberlost is a fully accessible trail.
Length: 2338.3 yards/2138.1 meters
Surface Type: primarily crushed greenstone
Typical Tread Width: 5 feet/1.5 meters
Minimum Tread Width: 2.7 feet/.8 meters
Typical Running Slope: 3.5%
Maximum Running Slope: 10.3%
Typical Cross Slope: 1.6%
Maximum Cross Slope: 5.0%
Service animals are allowed on Limberlost. All other pets are not allowed on this trail. 
Last updated: July 9, 2018