Thing to Do
Hike to Kelham Beach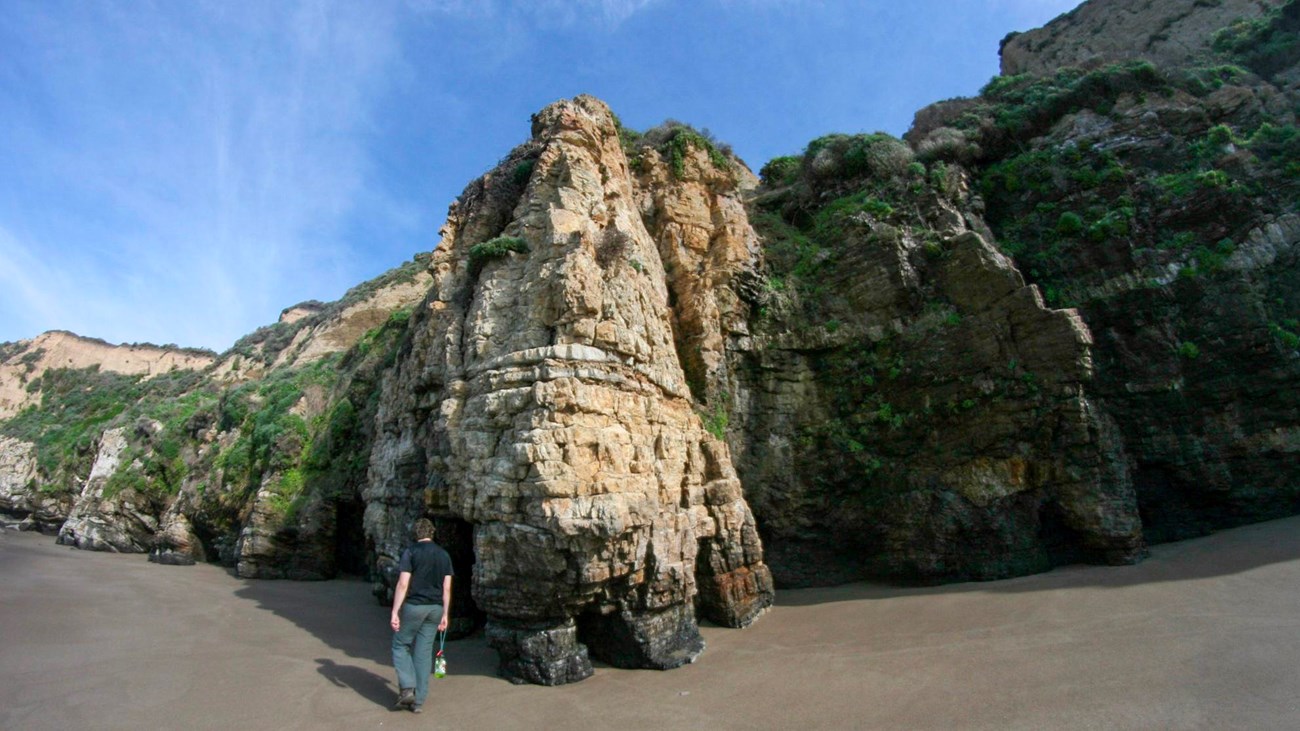 Distance: 10 miles (16 km) roundtrip, moderate
The Kelham Beach Trail is indefinitely closed due to storm damage.
Kelham Beach is a 0.9-mile-long (1.5-kilometer-long) beach deep within the Phillip Burton Wilderness in the central part of the national seashore. The only safe location to access Kelham Beach is via Kelham Beach Trail, which is 5-miles (8-kilometers) from the nearest trailhead.
The closest place to park is the Bear Valley Trailhead. Follow the Bear Valley Trail south for 1.6 miles (2.6 km) through a Douglas fir forest along Bear Valley Creek to Divide Meadow. Vault toilets are located at Divide Meadow—there are no other facilities beyond Divide Meadow, so please be sure to use the toilets before proceeding further.
Beyond Divide Meadow, the Bear Valley Trail re-enters the forest and begins to parallel Coast Creek as it flows downhill toward the coast. After another 1.5 miles (2.4 km), the Bear Valley Trail intersects with the Glen Trail and the Baldy Trail. If you are riding a bicycle, you will need to dismount and lock your bicycle to the bike rack at this junction. Beyond this junction, the Bear Valley Trail enters the Phillip Burton Wilderness and bicycles (and other wheeled devices, like strollers) are prohibited in Wilderness.
Continue on the Bear Valley Trail for 0.9 miles (1.5 km) to its junction with the Coast Trail, which is 4.1 miles (6.5 km) from the Bear Valley Trailhead. Bear right onto the Coast Trail and follow it northwest for 0.9 miles (1.5 km) to a large eucalyptus at the site of a former ranch.
From here, the 500-foot-long (150 m) beach access trail descends to a quiet, secluded beach. Point Resistance reaches in to Drakes Bay at the north end of the beach; a guano-covered sea stack and the rubble of Arch Rock (a natural bridge that collapsed in 2015) are at the south end of the beach.
Retrace your steps to return to the Bear Valley Trailhead.
Consult a tide chart and local weather forecasts before setting out on your trip; venturing on to Kelham Beach during hazardous surf conditions or a high tide can result in becoming trapped against the coastal bluffs. Visit the park's Beach Safety page for more information.
Some of this area was burned in 2020, when lightning strikes in the Woodward Valley started what became the 2020 Woodward Fire.
This route description alone is not a substitute for a trail map. Print out the Point Reyes National Seashore's South District trail map (3,422 KB PDF) before your visit, or pick one up at the Bear Valley Visitor Center on your way.
Always check current conditions before heading out into the park and familiarize yourself with park regulations. Please practice Leave No Trace principles.
Visit the park's Hiking at Point Reyes National Seashore page for hiking tips and information about trail etiquette and safety.
Visit the park's Trail Advisories and Closures page for current information about closed trails, trails blocked by trees, or other temporary hazards or advisories.
Allow 4 to 5 hours to hike to and from Kelham Beach. Allow for more time to relax and/or explore Kelham Beach.
Pets are prohibited at Kelham Beach and along all of the trails that lead to Kelham Beach. Visit the park's Pets page to learn more about where pets are welcome at Point Reyes National Seashore.
Entrance fees may apply, see Fees & Passes information.
Winter
The heaviest rainfall occurs in the winter months. Come prepared for rain and drizzle to possibly last for several days. In between winter rains, it is often sunny, calm, and cool.
Spring
Most spring days are windy and this area frequently experiences fresh to strong breezes. Expect cool temperatures in March. By late May and early June, temperatures can be quite pleasant, even warm.
Summer
Although there is very little rain during summer months, there is often dense fog throughout the day in July, August and September with temperatures often 20 degrees cooler than at Bear Valley.
Fall
The coastal areas of Point Reyes experience some of the clearest days in late September, October and early November. The occasional storm will start rolling through in late October, bringing clouds, wind, and rain. The strongest winds occur in November and December during occasional southerly gales.
Time of Day
Day, Dawn, Dusk
Point Reyes National Seashore is open for day-hiking from 6 am to midnight. Camping and overnight parking is only permitted with a valid camping permit.
Accessibility Information
The Bear Valley trail has a flat or mild grade (less than 5% slope) for most of its duration, although there are a couple sections with grades of more than 5%. The trail surface is packed dirt and gravel, and is approximately 8 feet (2.4 meters) wide, depending on the section. The trail serves as a service road for NPS vehicles. The steeper sections and a few somewhat rocky sections are passable for those in wheelchairs with assistance. While the trail does not technically meet accessibility standards, it can accommodate some wheelchairs. Strollers and bicycles are also permitted on the Bear Valley Trail from the trailhead to the Glen Trail Junction. The vault toilets at Divide Meadow do not meet accessibility standards. After the first 3 miles (5 km) the trail narrows, and the surface becomes more inconsistent and uneven. The stairs down to Kelham Beach do not meet accessibility standards, and may become slippery when wet. 
Last updated: August 17, 2023